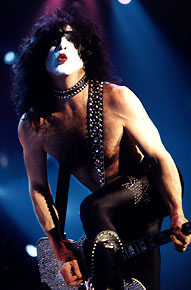 You Wanted the Best, You Got... the Rest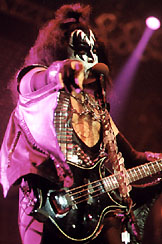 KISS
with Econoline Crush
GM Place
Vancouver, B.C.
Tuesday, May 6, 1997

Review by Kevin Templeton
Photography by Rodney Gitzel
---

I was a sweet child o' nine in November of 1979 when I first saw KISS on their Dynasty tour at the Pacific Coliseum (with Loverboy opening!). It's easy to be nostalgic when it comes to KISS. Many us of twentysomethings who were turned on to music at a young age can recall old KISS stories like they're reading them from the annals of Creem or 16 Magazine way back when. KISS themselves make no bones about the fact that they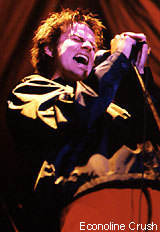 are in the business of selling much-hyped nostalgia, and a lot of us are apparently taking the bait, because "the hottest band in the world" never seems to turn a blind eye to our fine city. This concert was KISS' second time through Vancouver on the Alive Worldwide Tour in eight months; so, what surprises, if any, would be in store for the KISS army this time around?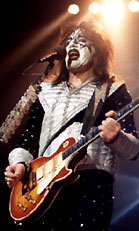 Not the opening band. Econoline Crush are a well-respected Vancouver five-piece that, unfortunately, had a not-so-spectacular night in opening the show. Maybe it was the lacking guitar sound, or the singer, who was frequently touching his bod and swiveling his hips (loved the jumps, though), that made me yawn. The only songs to break any ground within the half-filled arena were the set opener, "Wicked," and a new track called "Home," yet even they sounded a bit flat. Can't say I've followed Econoline Crush's recent progress too closely, but they definitely need to inject a little more crush back into things.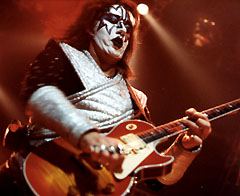 "Deuce" and "King of the Night Time World" kicked off the KISS arena spectacle with Gene Simmons, the Ron Jeremy of glitter-rock, pointing and menacing his way about the stage like the filthy-rich demon he is. The workmanlike Paul Stanley pranced and practiced his cool moves all over the place, occasionally even strumming on one of his many vintage guitars down the centre of the stage. [Rodney: He also took to rolling guitar picks around on his tongue and then spitting them down on the floor for photographers to pick up and hand to the girls in the front row. Eeeew. Lotsa goober on them... the picks, I mean.]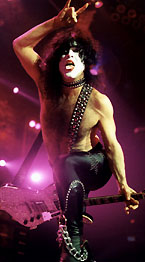 But, wait a minute, Gene doesn't seem quite right (can you say "body double"?), his patented left-booted kicks during "Calling Dr. Love" aren't high enough -- a little road weary, perhaps? Up on the big screen is the feline mug of an enthused but tired Peter Criss, whose playing would be relatively inaudible in a one-bedroom apartment let alone GM Place (his "Beth" performance later would also prove to be a non-event). Finally, we have "Space" Ace Frehley who's off on his own blue trip to the right of the stage, Les Paul in hand, and singing "New York Groove" and the classic "Shock Me."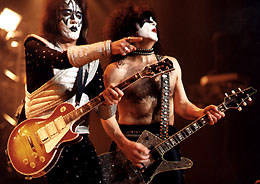 As expected, plenty of the band's tasty stunts were showcased, beginning with Simmon's standard fire breathing routine during "Firehouse," (which was one of the best songs of the night, up there with "Watchin' You" and "Shout It Out Loud"). Simmons also spat/puked blood from above the huge lighting rig before "God of Thunder," while Stanley introduced to the crowd a new KISS prop: a pulley that transports the apprehensive Starchild over the main floor audience to a mini-stage by the soundboard.
So, in answer to the question posed earlier in this article, aside from the one new stage gimmick and the lukewarm inclusion of "I Was Made For Lovin' You," KISS had really nothing new to offer. Oh well, that's 70's rock 'n roll for ya. Rest assured, we can all assume that this mammoth undertaking/cash cow of a tour has resulted in new homes for the KISS members, new cars... maybe new wives??
But guys, five compilation releases later, how's about some new songs?!?!?
---
First published in Drop-D Magazine on May 26, 1997
Index | Search | E-mail | Info | Copyright

Considering copying some of the images from this story?
Please read this first. Thanks.