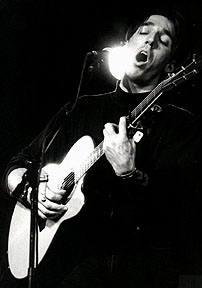 Lock Up the Bagels!
Blackie & the Rodeo Kings' Stephen Fearing
Interview and live photography by Rodney Gitzel
---

45-second excerpt from Blackie & the Rodeo Kings' "Come On Train" (352 Kb .au file)


Vancouver is the place to be, it seems. Everybody wants to come here, so why would anyone leave? But that's exactly what singer/songwriter Stephen Fearing did, two years ago. And where did he move to? Guelph. Guelph?!

"It's interesting," says Fearing. "When I moved here, people who lived here, people who knew me on the coast, they're all kind of scratching their heads, 'why did you move to Guelph?' I didn't move here for business, and I didn't move here because the scenery is pretty -- although it is, and business is better for me here -- but I moved here because I got married, so that pretty much answers that. Luckily my wife didn't live in Etobicoke or Scarborough, so I landed in a very cool little town."

Surely he misses Vancouver? "You know, I miss the water, I miss my friends, I miss... Siegel's Bagels! There's a couple of things you just can't get here. The coffee has finally come around, but, you know, the first year I was just hurting, I thought 'This is terrible. I've come from Joe's, the best coffee in the western hemisphere, to this sorta sad, pathetic cappuccino.' But they're coming around."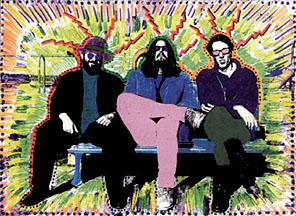 "It's been a good move. Certainly -- and this is a nice little segue, here -- the Blackie thing, it couldn't have happened if I hadn't moved."
"The Blackie thing" is Blackie and the Rodeo Kings, a Canadian supergroup of sorts, consisting of Fearing, Colin Linden and Junkhouse's Tom Wilson, which performs exclusively the songs of Canada's own Willie P. Bennett, who was a strong and early influence on each of the three.
Colin Linden met Bennett when he was 14 -- this was after he had also become friends with Howlin' Wolf. A young Tom Wilson, playing guitar in Hamilton, found that you covered two things: the Ramones and Willie P. Bennett. Fearing, for his part, credits his sister's gift of the Hobo's Taunt album. "I had just picked up the guitar, and I had no idea about this guy, but his songs were really easy to learn." Years later, Bennett's continuing influence brought the three together.
"The way this whole thing came about was both Colin and I thinking about it at pretty much exactly the same time, I mean within the same 24-hour period, both of us thinking, 'Gee, wouldn't it be fun to do an album of Willie P. Bennett's music?'" The two psychics emailed each other and then met at a John Hiatt gig, excited that they'd both had the same idea. Wilson was called the next day.
This was in mid November, and, by the start of January, they were in the studio. "For me, it was something vague, a 'wouldn't it be fun one day' kinda of thing. I was thinking at least a year down the road, if ever," Fearing says. "Colin, in the meantime, was ready to go RIGHT NOW, and he had the money in place to do it."
"We picked our own songs, and there was no overlap, which was really interesting. We all picked different songs. Even when Russell deCarle [of Prairie Oyster] came in and said, "I really want to do a song," the tune that Russell picked ["For the Sake of a Dollar"] was one that none of us had even thought of."
"The whole thing was, by and large, spontaneous, fun, quick. At first I was really nervous because it seemed like there was a distinct lack of time set aside for rehearsing, but Colin had faith, and he really knew what he was doing [as producer]. We just powered through it and it was done. We were only there for five days -- 15 bed tracks in five days -- and when we left, I was like, 'That was too quick! Shouldn't we do something else?' It was too much fun altogether."
"And Willie was there for a lot of it. He was there so much of the time, and it wasn't so much 'does Willie mind?' as much as it was 'we can't have Willie playing mandolin on everything!' So he was there in three different personas: the songwriter, our buddy Willie who was hanging around the studio and the grand-poobah mentor of the whole project, and having him there was kind of like having our spiritual leader there. It was really great."
With the record, High or Hurtin', in the New Releases bins, it was time to hit the road: "We've done a whole summer's worth of festivals as a trio. We're just starting to step outside of the festival 25-minute set and look at doing longer sets, which I am really looking forward to. It'll allow us to get into some of the quieter stuff we've been doing, instead of trying to beat people over the head."
The three members of the Rodeo Kings are each known for the intensity of their own performances, so you might expect that together they must really be impressive. Fearing agrees: "It is pretty powerful. The people that like it seem to find that it works with the best of what we all have to offer as individuals." Then he adds, "I think we've been pissing some of the folkies off a fair bit, though. I've had some comments come back to me, and directly from people, that they're a bit aghast at seeing me in this context. But I'm getting right off on it!"
Don't worry, folkies, Stephen Fearing will be back to his own context, soon. It's about time to record the followup to The Assassin's Apprentice, his third and most recent album: "This move has taken a lot more energy out of me than I thought. I'm just starting to feel in the last six or seven months that this is home and I live here, so I'm finally feeling settled and ready to get on with my life. I've got a life, now it's time to get back to the music business. This Blackie thing has definitely fired me up, in a different way, musically, and I think that will be a lot of fun, to see how it comes out in the studio."
Beyond that, he is also becoming more involved with the 'Net. Two years ago he was collecting email addresses after shows, planning already to connect with his fans electronically. He's getting closer to making this a reality, he says. "There's been this horrible growth curve... I hadn't owned a computer before, and to go from no computer to a Powerbook and the Internet in a month just sort of blows your mind. And mostly what I do with the email is exchange inane comments with friends all over the world -- and stupid urban myths. I'm very lucky with my web page, though, in that I have nothing to do with it. There's a fan of mine, he approached me about a year ago and said, 'I'll do a web page for you.' He's a computer whiz and we're trying to get some kind of bulletin board thing where I can log in and download a bunch of email from people and reply to them individually."
In the meantime, though, you'll just have to go see and talk with Stephen Fearing in person. Keep an eye out for Blackie and the Rodeo Kings on tour. For Vancouverites, they will be playing on Monday, October 7th, out at UBC's SUB Theatre. [ed. That show was subsequently cancelled in favor of a performance at the duMaurier Concert Stage.] And if Siegel's is all out of bagels that day, try checking the Rodeo Kings' tour bus.
---
First published in Drop-D Magazine on September 27, 1996
Index | Search | E-mail | Info | Copyright

Considering copying some of the images from this story?
Please read this first. Thanks.