Omnipop (It's Only a Flesh Wound Lambchop)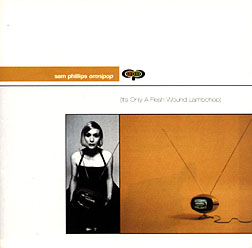 Sam Phillips
Virgin

Review by Greg Gitzel
---

42-second excerpt from "Entertainmen" (various formats)


Sam Phillips is back again. For those of you who are unfamiliar with Sam, she started off as a Christian pop singer under her real name "Leslie Phillips," appeared in Die Hard with a Vengeance as the bad guy's girlfriend, and has now released her fourth CD as "Sam" Phillips. Once again, the album is produced by her husband, T. Bone Burnett, and, once again, she has delivered a great pop album showing off her artistic brilliance.

Omnipop (It's Only a Flesh Wound Lambchop) starts off with a great song called "Entertainmen," with driving bass, cool guitar and Sam's unique voice. The second song "Plastic is forever" is very cool too -- great ideas and very original. Another highlight song is "Slapstick Heart," which was co-written by Sam and R.E.M. The only way I can really describe Sam's sound is that it's cool, emotional, interesting and enjoyable to listen to.

It's hard to say whether Sam Phillips will receive the credit she deserves for this CD, but it's safe to say that she's out to do what she wants and to not sell out. This is an excellent release.



---
First published in Drop-D Magazine on October 5, 1996
Index | Search | E-mail | Info | Copyright

Considering copying some of the images from this story?
Please read this first. Thanks.