Today's Specials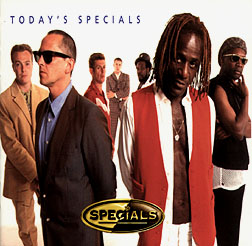 The Specials
Kuff Records / Virgin

Review by Stuart Derdeyn
---

43-second excerpt from "Take Five" (various formats)


Once upon a time, when music was almost as boring as it is today, a bunch of Brits decided to revive the R&B/reggae/energy music known as "ska." Bringing the sound into the 70's by mixing it with punk, bands like the Specials made music fun again, while still mixing in plenty of politics.

Which makes me wonder how it's possible that the same band -- minus their real creative force, Jerry Dammers -- could be responsible for this tired, lame bit of second-rate bar-band-by-numbers disc.

UB40 made it into the big time copping old reggae hits to produce Labor of Love. That represented the turning point in that band's career, as most people who dug them turned them off. So now the Specials have their own CD of favourite covers, the Specials play the hits, if you will. It sucks.

From the opening cut of Dave Brubeck's classic and ska-ified "Take Five" to tired re-workings of "Pressure Drop," "Hypocrite," "A Little Bit Me, A Little Bit You," "Dirty Old Town" and the Clash's "Somebody Got Murdered," it's all so poorly energized that you can't help but want to send the band back into a locked studio without the Prozac and see if they can generate a real record.

Wretched, and an embarrassment to a great band's legacy.



---
First published in Drop-D Magazine on October 5, 1996
Index | Search | E-mail | Info | Copyright

Considering copying some of the images from this story?
Please read this first. Thanks.