Smash the Ships and Raise the Beams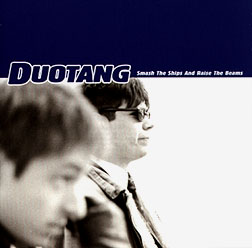 Duotang
Mint Records

Review by Nolan Webb
---

38-second excerpt from "The Message" (297 Kb .au file)


This is not your average Mint release. Don't misunderstand: this Winnipeg duo are often fun, but they balance that with a moody sensibility. They're also not your average band, unleashing a fully dynamic six-piece sound in only a two-piece (bass and drums) format. Rod Slaughter's bass is provocative, his lyrics clever and catchy, while Sean Allum's dynamic drumming rounds out the mix.

The band's "Ba Ba Ba... " brand of pop shines through in "The Message" and "Follower of Obvious Voices," leaving a sound that is a kind of Sesame Street version of the Jam that plays in the same ballpark as Zumpano. Duotang takes us on a time warp to when entertainment and style were first priority. Their carefree fun will appeal to all but the darkest of listeners.



---
First published in Drop-D Magazine on October 20, 1996
Index | Search | E-mail | Info | Copyright

Considering copying some of the images from this story?
Please read this first. Thanks.