Welcome, Dahlings!
The Blue Lizard Cocktail Club
The Waldorf Hotel
Vancouver, B.C.
Saturday, October 19, 1996

Text and photography by Suzanne 'Simply Scrumptious' Goodwin
---

"Wear what you want, but wear it well."

Oh how these words from the Blue Lizard's promotional material did a tempestuous mambo through my head. I was undertaking the dizzying task of determining my costume for an introductory visit to this Cocktail Club of burgeoning popularity and darlings, you should know that I was absolutely frantic about the whole affair! I mean, my gawd, my life of late has seen no more style than colour-coordinated laces for my hiking boots -- this was a desperate situation! Whatever was a girl to do?!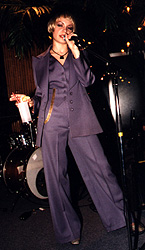 Well my sweets, I needn't have been so uptight! After draping myself in black and donning footwear of a feminine ilk, I clicked my heels together and was immediately transported to the dimly lit nether world of the Blue Lizard Cocktail Club. Wardrobe worries were allayed upon arrival however, as I was greeted at the door most personably by the decidedly stylish yet effervescently friendly hosts of this unique soirée. Handing me a particularly informative and interesting printed program for the evening, these wonderful people obviously understood the finer nuances of hosting such a gathering. Thanks to them, I was immediately put at ease and welcomed into the fray.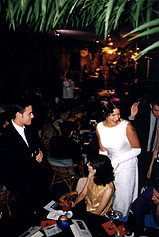 Upon my entrance, I momentarily believed that I had stumbled upon the set of Johnny LaRue's "Polynesian Town," such was the influence of the plastic palm trees and lacquered bamboo decorating this surreal little den. However, my friends, it was to be soooo much more than any SCTV skit! A large sunken lounge lay before me, the tables made visible only by the guiding glow of untall candles contained within blue, crinkled glass pots. These moody little lighthouses shone through all manner of elegant glassware containing a variety of cocktails, the hues of which were an infinitesimal palette of shimmering colours. And oh my, such colours!
Opalescent frosty blue concoctions mingling with sensuously syrupy red and orange highballs. Fizzes and sours, just to name a few, interspersed themselves with kitschy cocktail umbrellas and swizzles throughout the curved arrangement of tables. The serious martinis clearly reflected the twinkly glow of the starry lights dotted throughout the plastic palms, all dispersed so as to draw your attention to the stage in the far corner of the room.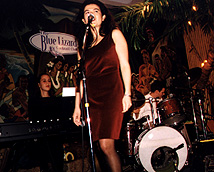 Here we were treated to the sultry, jazz stylings of P.S. Low keyed and perfectly suited to the languid lounge atmosphere, this quartet took us back to the time of a different generation. While P.S. stroked ears with Nat King Cole-esque musical persuasions, I set out to explore the rest of the Lounge.
Squeezing through the growing populace, the first magical surprise I encountered was a lovely velvet-gloved representative of the Blue Lizard situated behind an elegant display of dance lesson flyers. She kindly explained to me how the Blue Lizard was presently offering Mambo lessons for those so inclined. Cha Cha lessons will soon be in the offing as well! 'Simply fabulous,' I mused to myself -- what a wonderful way to further accentuate such a stylish evening -- but, oh, what was this?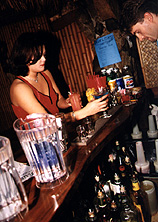 Down a narrow hallway absolutely teeming with people, gentle iridescent bubbles drifted throughout the atmosphere, originating from some machine somewhere up above. Of course their dreamlike quality only added to the total fantasy darlings, yet, there was more to come! The birthplace of all those magical cocktails was now within my view. A thatch bar resembled a Tahitian beach hut, its inhabitants mixing, shaking and pouring cocktails with absolute panache and flair. This area -- as I'm sure you can all well imagine -- was one of the more popular locations among the patrons. And while waiting for those titilating alcoholic potions, these loungers were hardly at a loss for entertainment either, my dears.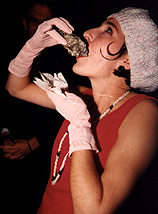 To the left, for a small fee, one could partake in the curious practice of swallowing whole fresh raw oysters, available in a variety of sizes and styles of culinary preparation. Now while I believe that the libido strengthening value of a raw oyster is at best, questionable, you must admit my dears that this is one of the more decidedly decadent activities in which one can publicly partake. And while you're in that frame of mind, why not slither over to the right of the bar for a miniature massage?
Here the sparkling crew from Moods Salon had made available their talents for the evening in what was presented as the Updo Den. Yes darlings, if the cocktails hadn't loosened you up enough already, perhaps a quick application to your shoulders from a hand-held massager would do the trick... and if you felt your hair didn't quite reflect the stylish mood this evening? Well not to be concerned dears, because the Updo Den had enough tendril teasing and aerosol stiffener happening to put you in beehive heaven for far beyond the evening's duration.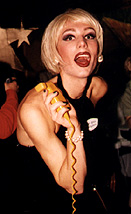 Oh yes, it was all there for your experience. Farther down this bustling little hall I discovered, much to my surprise yet another darkened little den! It turned out to be the Menehune Mambo Hut, and just guess what you do there -- well, dance, dance, dance of course! Upon entering this twirling disco ball lit enclosure, I immediately sensed the presence of an otherworldly force. To my right, sequestered behind a gypsy-veiled shroud, was Thelma, teller of fortunes. Make your donation and hear your fate... all will be revealed darlings!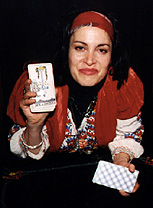 Further libation could be had from yet another thatch-roofed hut contained within this dark lair of dance. Cocktail prices were made known to me by a discreet little list posted beside the bar and I found them to be in keeping with what one might expect at most any establishment of a club-like persuasion in this lovely and fine city. Inside the Hut, one could swirl and whirl to the DJ talents of Dick Scorpio & don Stronzo, or else steal away to a secretive corner and enjoy the evening more privately under the magical cloak of semi-darkness. Yes, perhaps those Cha-Cha lessons would come in handy after all!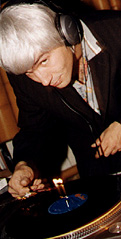 And you know, darlings, my evening would just not have been complete, had I not caught sight of the Blue Lizard's very own "Cigarette Girl," Sass. Splendidly costumed in a Polynesian grass skirt and leis, this lithe creature proffered a most copious selection of tobacco for your smoking pleasure. Now my dears, I do not personally partake in the practice of inhalation of the smoke from burning tobacco; however, it seemed to me that there was just something altogether appropriate about sporting a finely crafted product of this popular leaf, whether it be lit or not.
Well darlings, I could just go on and on and on and on about the tantalizing pleasures that were revealed to me that evening. I mean, I know you're sitting there thinking "Oh do tell!", but there was just so much happening that night, I would just have to write a novel -- and in this long-winded style of mine, would it ever get finished? My suggestion to you all is this: on the third Saturday of every month, don your finest, most elegant attire -- retro or 90's -- and spirit yourself away to the basement of the Waldorf Hotel. Your Mistress of Ceremonies, Maxine Von Minx, I am sure, will see you have a most delightful evening.
Oh, and darlings, for the record I noticed a diminutive presence of poseurs at the bash. I can only speculate it was due to real people having genuine fun -- a pleasant surprise for lotus land, don't you agree?
---
First published in Drop-D Magazine on November 15, 1996
Index | Search | E-mail | Info | Copyright

Considering copying some of the images from this story?
Please read this first. Thanks.