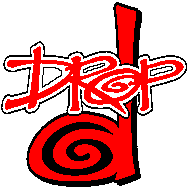 Vol. 1 No. 31
November 15, 1996
Drop-D Magazine
Vancouver's Music Magazine.
ON the 'Net and OFF.

Jeepers! Less than six weeks to Christmas!

Features
A Feast Fit for a Queen!
Sorry, I just have to say it: Yum!
Live Review: Girl Feast Benefit Festival, Columbia Hotel Pub, November 7-9, 1996
Brits Come Bearing Gifts
Namely an amazing performance and a great replacement opening band.
Live Review: Wedding Present / Daytona, The Town Pump, November 7, 1996
Welcome, Dahlings!
A visit to a loungey world both cool and poseur-free.
Live Review: The Blue Lizard Cocktail Club, Waldorf Hotel, October 19, 1996
Happy Birthday, CBC!
A questionable choice of bands, but otherwise a great party.
Live Review: RealTime Bash with Doughboys & Super Friendz, PNE Garden Ampitheatre, November 2, 1996
Two for Three
Two for three. Three for five. Numbers numbers schnumbers!!!
Live Review: 1000 Mona Lisas / Smoother / Mollys Reach, Club Paradise, October 19, 1996

CD Reviews
Hissy Fit
Rude Like Me
Nirvana
From the Muddy Banks of the Wishkah
Pigment Vehicle
Independent Women Are So Damned Good...