Turn the Radio Off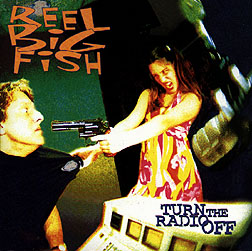 Reel Big Fish
Mojo Records / MCA

Review by Pauline Watkin
---

45-second excerpt from "Sell Out" (351 Kb .au file)


Reel Big Fish are yet another band from Southern California that have put out a ska album. Musically, there is nothing overly exciting about Turn the Radio Off, but it is fun. They sprinkle some influences such as reggae, funk, metal and rock over some of the songs, providing the listener with some variety.

For all that variety, though, the songs do consistently fall back on that laid-back ska rhythm, with Grant Berry, Dan Regan, Scott Klopfenstein and Tavis Werts comprising the horn section that is the thread running through the disc. The rest of the instrumentation wanders off and sets the tone for the songs as in "S.R." (Suburban Rhythm) which carries a bit of funk to it, while "Skatanic," a twisted tale of love and emotions, carries not only an appropriate title, but a crunchy metal edge to it.

I like the track, "She's Got a Girlfriend Now," about an ex-girlfriend who is now a lesbian. Girl, I'm with ya', give me a call if you get lonely. I'm sorry, did I say that out loud?

Turn the Radio Off is a playful effort from Reel Big Fish and it's also a good idea. Turn your radio off and turn your CD player on. Polish up your shoes, we're going skankin' tonight!



---
First published in Drop-D Magazine on November 23, 1996
Index | Search | E-mail | Info | Copyright

Considering copying some of the images from this story?
Please read this first. Thanks.