Exploder!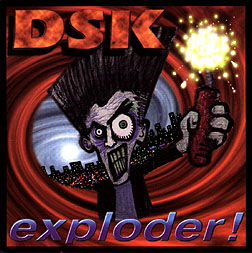 DSK
Divine Industries

Review by Darren Kerr
---

45-second excerpt from "Landmine" (351 Kb .au file)


Blair Dobson is one of the most outspoken frontmen in Vancouver's rock music scene. He can take the piss out of today's flavour of the month, and if your icons deserve to fall from grace, he'll give them that first push.

With the timely release of Exploder!, Dobson and DSK have created one loud, extended middle finger of a concept album, and that concept is BULLSHIT, in all shapes and sizes. Dobson puts the loaded boots to creative sellouts ("sold 'em my soul so they'd fix my teeth/even dress like a whore if it fills more seats," from "Landmine"), corporate toadies ("move more units, guys like you come and go/here today, here to blow," from "Units"), and Tinseltown ("you'd walk a thousand miles for one last piece of schlong/every rat is fighting over one piece of two percent of fifteen percent of nothing is fuck all" from "Shiny"). Pretty caustic shit you must agree.

Music-wise, this album is so much more memorable and tuneful than DSK's debut release, Narcotic Nevada, that you wouldn't think this was even the same band. Where at times Narcotic Nevada sounded like a diluted Slayer with nothing to come back to, Exploder! is fresh and current, hinting at Ministry, Tool, and other heavy shit. "Cementhead" (which even C-FLOG has played) possesses a great chorus hook, and "Units" has all the momentum of a failed CEO falling past the twelfth floor -- while "Superhero" is the sound of him hitting the ground.


Artist Contact Info: Box 309, #101 - 1001 W. Broadway, Vancouver, B.C., Canada, V6H 4E4, (604) 685-0143



---
First published in Drop-D Magazine on January 11, 1997
Index | Search | E-mail | Info | Copyright

Considering copying some of the images from this story?
Please read this first. Thanks.