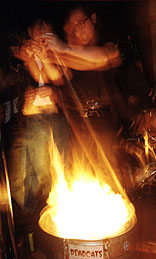 Vive les Chats Morts!
The Deadcats
with The Wind Ups
The Pic Pub
Vancouver, B.C.
Friday, January 10, 1997

Review by Michele Martin
Photography by Suzanne Goodwin
---

The tiger skin cover on the amp was a dead giveaway that what we were about to see was out of the realm of the ordinary and into the realm of the -- are you ready for this? -- rocka-punka-surfabilly. Whatever. No matter what you call it, it all amounts to the same thing: fun -- and lots of it.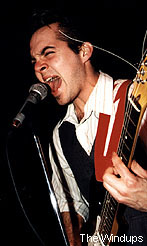 Up first, the Wind Ups. Resplendent in their 50's-inspired outfits, from the tip of their black and white wingtips and pointy toes to the top of their slicked-back mini pompadour do's, these youngsters played a wild and shaking set, much to the delight of the many fans clustered eagerly about the miniature stage.
With thumping bass and driving drums, and lots of energy, the Wind Ups put out surfing songs filled with punk sensibility. The beat was infectious; it was difficult to remain seated, particularly for such toe-tapping- finger-snapping numbers as "My Baby She's a Bomb" and "Revolution on a Vespa Scooter." The sound system was surprisingly good, although the vocals were somewhat muddy and at times indecipherable. (Personally, I preferred the singer, Shane, when he actually sang the lyrics, rather than howled or screamed them out, as the case may be).
In true punk fashion, the songs were fast and furious -- and short. The boys demonstrated their ability to punkify any piece of music; even such classics as "Dream a Little Dream" were transformed, starting "normal" then suddenly spinning out into something insanely wild, and, at times, a little sloppy. Think of songs in the style of "Secret Agent Man" or "Rock Lobster," but with lots of attitude. A lot of humour was present as well, particularly when Shane announced, "Let's slide right into the Christian material," as a prelude to a rollicking little number, "Whiskey with a High Speed Chaser."
The Wind Ups can and do play well, particularly for a band who've only been together for about nine months. Give them some time to get a few of the kinks worked out, such as a little more of a handle on that craziness, and then watch out!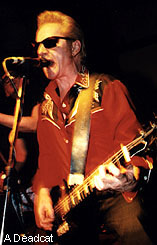 After a short break, the Deadcats took the stage, washtub bassist Scooter with his purple hair leading the way. The first time I heard the Deadcats was last year on their CD, Bucket of Love, and it was love at first listen. I think it was the note on the back cover stating "warning: this is hillbilly/surf/punk!" that started it all. And, man, how these cats could play. So, it was with much anticipation that I awaited their first (for me) live performance.
The Deadcats absolutely romped though their set with a blend of old ("Rock and Roll is Here to Stay") and new (the "not recorded yet but soon to be" "Rip It Up") and tried and true ("Goin' Down to Memphis" and "I'm a Rock"). Every wild little (and short) punk/rock/surf/abilly song they played got the Deadcats treatment as they were injected with a large dose of the three F's: fast, furious, and, above all, fun.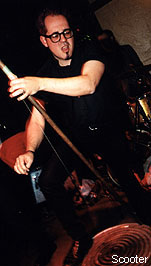 It's not too difficult to keep the audience's attention when you're putting on such a lively show, but just in case, Scooter does a little stage prank guaranteed to keep the audience tuned in: lighting up his gut bucket (imagine an old wash tub, turned over, with a single string coming out of it and tied to a broom handle), he proceeds to hop on top of it, flames licking precariously at his, ahem, private parts, and wail away for all he's worth as the lighter fluid fumes waft over the venue...
Ending with their signature tune, "Bucket of Love," the band left the audience shouting for more. While awaiting an encore that, sadly, never came, I realized that even an Elvis/greaser/crooner wannabe who persisted in hopping on the stage at regular intervals to disrupt the show could not detract from the obvious: these four musicians play as a professional and cohesive group, displaying some pretty fancy footwork, legwork, and fingerwork in the process. They relate well to their audience, and to each other, sharing equally in the duties of entertaining, and performing for the crowd, and, one gets a sense, for each other, having a good sense of the need for that balance between craziness and control.
The Deadcats ain't dead yet and hopefully, we and they will get the opportunity to experience fully every one of their nine lives, musically speaking. Long live the Deadcats!
---
First published in Drop-D Magazine on January 17, 1997
Index | Search | E-mail | Info | Copyright

Considering copying some of the images from this story?
Please read this first. Thanks.