Ancestors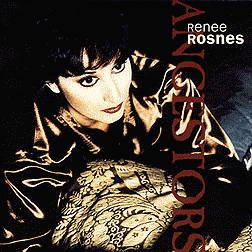 Renee Rosnes
Blue Note / EMI

Review by Greg Mittag
---

This Indo-Canadian jazz pianist's fourth album as a leader gets off to a promising start. Rosnes' playing, honed with the likes of Joe Henderson, Wayne Shorter and Branford Marsalis, has reached a comfortable maturity. Her harmonic and melodic ideas shine on the opening track, "Upa Neguinho," a Brazilian groove on which Miles Davis veteran Dan Alias lays down some spicy percussion.

Rosnes clearly has her own ideas as an improvising soloist, and remains a fine accompanist; but, as a composer, she falls short. After three wonderful interpretations of others' material, we are faced with listening to five pieces written by the pianist herself. None makes a strong impression.

Saxophonist Chris Potter, who sounds so good on "Upa Neguinho," takes some wrong-headed solos on "Lifewish," a Rosnes tune. Although trumpeter Nicholas Payton may not be a terribly original player stylistically -- he sounds a lot like late-fifties Miles Davis -- at least his notes always sound like the right ones. Thus said, Payton and the band do run out of steam at the end of "Intuition." For my money, "The Ache of the Absence" simply does not hang together. The rhythms are sluggish, and the rising single-note phrases favoured by the horns do not strike my ear as pleasing. In fact, they remind me of bad movie music, and detract from the pianist's worthwhile statements. In addition, on the title cut, "Ancestors," the Latin rhythm that worked so well in earlier tunes is as flat as week-old soda.

Overall, a disappointing album. When Rosnes' songwriting abilities catch up to her prodigious technique, she'll be capable of delivering a great album. In the meantime, perhaps she should include more covers in her program.



---
First published in Drop-D Magazine on April 25, 1996
Index | Search | E-mail | Info | Copyright

Considering copying some of the images from this story?
Please read this first. Thanks.