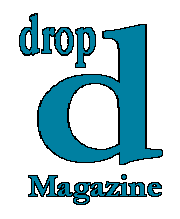 Vol. 1 No. 4
April 25, 1996
Drop-D Magazine
Vancouver's Music Magazine.
ON the 'Net and OFF.
A small issue. Spent the weekend on the upcoming first print edition of Drop-D....


Previous Issues

E-mail us

And, the lyric of the week:
"Hands off our fish, America!"
-- Vancouver punk band The Dole
Features
Have Dog, Will Travel
P. Freako has coffee with Vancouver's own Holly McNarland.
Spinal Tap Smells the Glove -- The Super Friendz Smell the Ghost
Ya Gotta be wary of those bright orange wicker monkeys!

Show Reviews
#@&$%@ Parking!
An angry Georges Vezina is wildly cheered up by Zumpano and jale.
Ammonia No Match for Skunk
No contest. Brit Openers totally blow away headlining Ozzies.

CD Reviews
Two Salutes for New York Punk Rockers
The Goops' Lucky
Better Stick to Playing...
Ancestors, from jazz pianist Renee Rosnes

In the Band Page Spotlight...