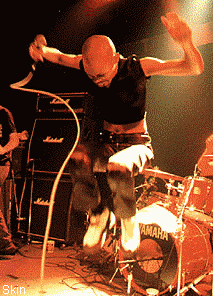 Ammonia No Match for Skunk
Ammonia
with Skunk Ananasie and Mystery Machine
The Town Pump
Vancouver, B.C.
April 15, 1996

Review by Daniel Ewacha
Photography by Rodney Gitzel
---

It was pretty darn apparent who people came to see when all was said and done at this show. Although playing second on a three-band bill, Skunk Anansie, from London, England, received the most attention and applause and rightfully so.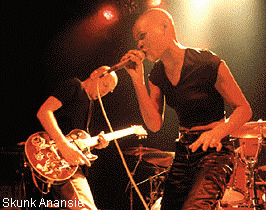 Performing a most inspired set, the band pumped the crowd into a frenzy. Vocalist Skin, with her exploding bursts of vocals and stage demeanour, did not leave any part of the stage untrampled or allow any member of the audience to leave without a workout. I personally felt absolutely exhausted after their show and I was leaning against a post all night. Skunk Ananasie, fueled by the crowd's intensity, threw caution to the wind and left victorious, leaving the other two bands in their wake.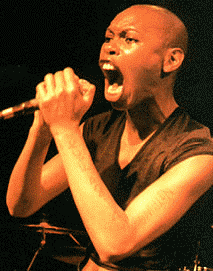 In any event, those people who did arrive early enough to see the pride of the Fraser Valley, Mystery Machine, were also thoroughly entertained. Kicking off the night's festivities, Mystery Machine delighted the crowd with their mix of pop, punk, and persona. It was my first time seeing them, although I've heard their name so much before, and I found I was left yearning for a bit more substance, instead of the all too common typical guitar noise. Still, Mystery Machine's use of melody and their fearlessness at trying something different left me ultimately satisfied.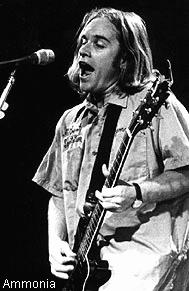 I don't know if it was the music, or the fact that it was a Monday night, that made half the audience leave after Skunk Ananasie finished their set. For me, it was a combination of both. In view of Ammonia having come all the way from Perth, Australia, I felt compelled to stay for at least half their set. But, I left after three songs, tired of hearing more of the same old grunge noise yet again. I'll take INXS any day!
---
First published in Drop-D Magazine on April 25, 1996
Index | Search | E-mail | Info | Copyright

Considering copying some of the images from this story?
Please read this first. Thanks.