The Guitar Trio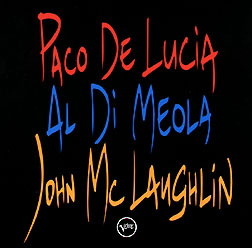 Al DiMeola, Paco De Lucia & John McLaughlin
Verve

Review by Miriam Davidson
---

45-second excerpt from "La Estiba" (various formats)


Fifteen years ago, Al DiMeola, Paco De Lucia and John McLaughlin recorded the live album, Friday Night in San Francisco, an album which has become a jazz classic along side albums such as Miles Davis' Kind of Blue. Finally, this amazing guitar trio has recorded a long awaited follow-up, titled simply The Guitar Trio.

Recorded at Peter Gabriel's Real World Studios, this new release is definitely a studio album. Friday Night... has a vibrancy that can only be achieved with a live and, at times, very loud audience. This new album is more subdued and introspective, although all three guitarists still play about a hundred notes a second in their solos. (For those not familiar with this trio, they play music that is strongly influenced by flamenco and gitano guitar styles, and the only instruments used on both albums are three acoustic guitars.)

This new album is certainly a collaborative effort. Except for Luis Bonfa's and Antonio Maria's classic song "Manha de Carnaval" (a.k.a. "Black Orpheus"), all of the tracks are original compositions from each guitarist. No one player is listed as the leader, and, at any given time, Di Meola, McLaughlin and De Lucia take turns soloing while the remaining two play rhythm. Unless you follow the liner notes that list who plays which solos, you can't tell one player from the other.

This album should be listened to in its entirety, because only two songs, "Manha de Carnaval" and "Azzura," really stand out. You certainly would not play The Guitar Trio at a Latin dance party, as you might an album by the Gipsy Kings. This album is more like listening to a long, intimate conversation between three close friends -- after all, these guitarists have been playing together for years and they know each others' playing so well. Although this album does not have the excitement of Friday Night..., the gentle and more intimate side of The Guitar Trio is definitely worth listening to.



---
First published in Drop-D Magazine on February 7, 1997
Index | Search | E-mail | Info | Copyright

Considering copying some of the images from this story?
Please read this first. Thanks.