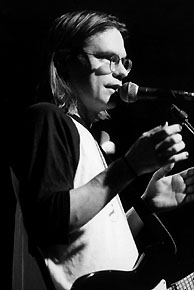 Really, Honest, I'm a Nice Guy!
The Pursuit of Happiness
with Queazy
Town Pump
Vancouver, B.C.
Friday, February 21, 1997

Review by Alphonse Leong
Photography by Rodney Gitzel
---

TPOH frontman Moe Berg is the ultimate goofy guy with heart, soul and brains. And he doesn't just write good songs: he proved to a revved-up Friday night Pump crowd that he can perform with as much intensity and charm as the best of 'em.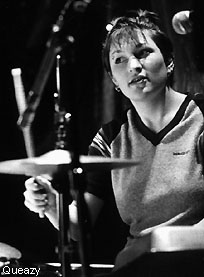 The night began, though, with edgy, angst-ridden energy in the form of a local all-female power trio (never thought I'd use that term again) called Queazy. As the guitarist/vocalist Laura Schultz admitted in her greeting to the audience, they are "not adults now," they are "still kids" (indeed, the band's bassist, with bobbed hair and kiss curl, could be a TV daughter). But they have drive and, in a stand-around-on-the-dance-floor-like-zombies way (which was popular amoung the audience), are quite engaging to behold.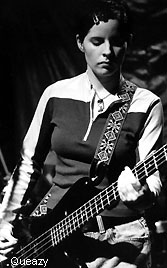 Essentially loud, mesmerizing, overdriven guitar and in-your-face vocals set against pulsating, often oozy bass and drums, Queazy's music echoes feelings of teen (and early twenties') exuberance and frustration. I couldn't make out a lot of the lyrics, but Schultz certainly seemed to mean what she was singing. On their last few numbers, Schultz let out some nice long shrieks that seemed to be made on behalf of all of us, and the crowd expressed their appreciation.
The Pursuit of Happiness sauntered casually onstage and lit into the short and sweet "Hate Engine." This witty, catchy reflection on a lost relationship ("you told your friends how I was in bed to make my humiliation complete...hey, can't we just be friends?!") set the tone for the night. Moe Berg is extremely articulate and he spits out his lines with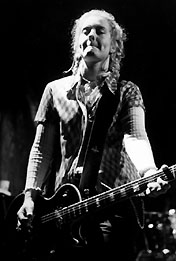 all the measured diction of a stand-up comic. He's just as funny, too; even as you body grooves to the melodies, the lyrics tug at your brain ("you're not smart enough for Shakespeare, but you're hip enough to know that the Merchant of Venice is racist!").
Tunes like "Tara," "Cigarette Dangles" and "The Truth" were performed with respect for the recorded versions, yet they really sounded fresh and alive. The dance floor was packed and throbbing (I'm glad I'm not claustrophobic) and, as the evening wore on, hearty moshers ringed the stage. The real crowd-igniter was "I'm An Adult Now," a song that holds up amazingly well for what once seemed to be just a light joke anthem.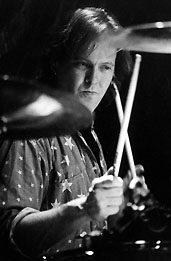 Berg is a very forthright speaker and he spoke endearingly of how he was denied admission to a Vancouver club because he was wearing Adidas Gazelles -- and of how his band's contribution to the Hard Core Logo soundtrack "kicked everyone else's ass!" Called "Edmonton Blockheater," it did kick, as did "She's the Devil," which was the main set's closer. The band then came back and did some covers (the seemingly fitting "Sugar, Sugar" and Poison's "Talk Dirty to Me") and you had to smile.
Peering out of his black rims with a sheepish semi-smile, Moe Berg seems like the most unlikely pop star ("Hey, girls, don't be thinkin' about me when you're having sex with your boyfriends tonight!" he said at one point), but he's good and ya gotta love the guy!
---
First published in Drop-D Magazine on March 6, 1997
Index | Search | E-mail | Info | Copyright

Considering copying some of the images from this story?
Please read this first. Thanks.