About to Choke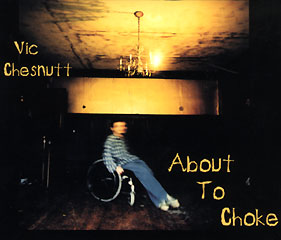 Vic Chesnutt
Capital

Review by Darren Kerr
---

45-second excerpt from "Degenerate" (various formats)


When I listen to About to Choke I think of Richard Brautigan, the writer who created In Watermelon Sugar and Sombrero Fallout (among others), simple bittersweet books of lyrical beauty, before taking his own life.

Vic Chesnutt dwells in a frail world as he stuffs his bell jar full of observations of the human condition. From the beginning Lady Jane-like arpeggios of "Tarragon" to the final note of "See You Around," he lets us trip through the watershed of his mind where he displays his spider webs and sand castles. With a voice akin to the late Cat Stevens, Chesnutt and his songs get under the skin and into the brain pan.

Exquisite moments are to be found everywhere on this CD: the grandeur of "Degenerate," with its gentle guitar fuzz; the descending harmony chorus of "Giant Sands;" the haunting Casio and finger-picking in "Threads;" the finality of "Hot Seat"'s chords; I could go on and on. Even though the man is confined to a wheelchair, his voice is free. I'm hoping that he will, to quote John Irving, "keep passing the open windows."



---
First published in Drop-D Magazine on March 28, 1997
Index | Search | E-mail | Info | Copyright

Considering copying some of the images from this story?
Please read this first. Thanks.