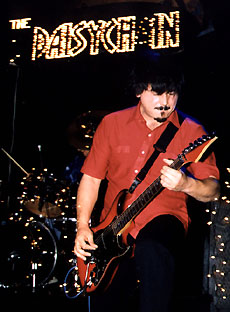 Baby, One Day Your Name's Gonna Be in Lights
The Daisychain
with 500 + Crave
The Gate
Vancouver, B.C.
Thursday, March 13, 1997

Review by Paul Watkin
Photography by Rodney Gitzel
---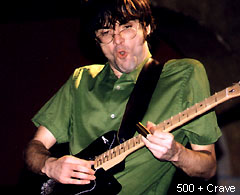 The Gate's "Volcano Thursdays" are a good thing, giving local boys and girls a chance to flaunt their musical wares. But tonight was different... where's the first band? Turns out Boneyard had to pull out at the very last minute, and it was too late to find a replacement. Hence the delay. Too bad, but at least we still had 500 + Crave and the Daisychain to look forward to.

500 + Crave appeared to be comprised of various members of other local bands (Melt and Brundlefly, to name a couple). They didn't begin their set until shortly after eleven, which allowed for a good crowd to be on hand, but the delay also fatally provided that same crowd time to settle in amongst itself and delve socially into a world of chatter that would plague both bands this evening. 500 + Crave thus began to carry out the daunting task of playing to a fairly unresponsive crowd, and I don't think they were quite up to the task of re-focusing people's attention.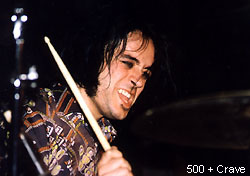 Centered by a strong rhythm section, many of their songs began with a bass line and developed into raw, poppy guitar songs lined with occasional spacey guitar sounds. The song "Repeller" reminded me a bit of early Sloan, and hints of other influences were detected through the set, but 500 + Crave are indeed their own entity. Unfortunately neither the lead singer's vocals nor the band overall seemed to have the presence needed to jolt the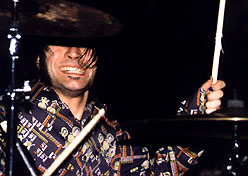 senses of those at the Gate. They did give it a good go, but I think that tonight this crowd needed to be baited with blatant hooks, musical or otherwise, and that just isn't 500 + Crave's mandate.
As we waited patiently while the stage was prepared for the Daisychain, I wondered yet again why west coast bands haven't embraced the idea of sharing drum kits. Things could move along so much quicker. Tonight it might have helped, as once again the crowd had ample time to settle in amongst itself. I wasn't worried, though, as the Daisychain do have flair and I was expecting the tide to change.
The last time I had seen the Daisychain they had strung lights around the stage and they did that again, but this night they also went one better: on the curtain behind the band, they unveiled their name strewn up in lights, à la KISS, as well. Take us to Vegas, boys! I thought this just might be what was needed to spark the energy level. That feeling rapidly ebbed, however, as we settled in for the performance.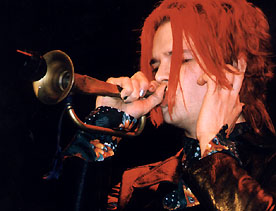 Styled moderately in the 70's, the Daisychain is an entertaining band to watch and to listen to. Flaunting flowery pop rock for all to see, the lead singer flailed his arms, banged his tambourine and blew his horn, but unfortunately the crowd just wasn't watching and wouldn't provide the energy the Daisychain needed to feed off of. As the set progressed, the band's flame appeared to be dying out. Pauses between songs became longer, the songs themselves started to lose their spark, and a feeling swept over me like this was becoming a jam for friends instead of a show for a room full of people.
It wasn't until the last few songs of the set that the Daisychain hit their stride again and begin to captivate the docile audience, but it was a case of too little, too late and I left the Gate with a feeling of frustration, happy the night had come to an end. It's not that I disliked the bands... or the crowd... Aagh. C'est la vie, I suppose. Next time.
---
First published in Drop-D Magazine on March 28, 1997
Index | Search | E-mail | Info | Copyright

Considering copying some of the images from this story?
Please read this first. Thanks.