Blue Cave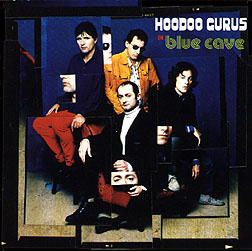 Hoodoo Gurus
True North/Universal

Review by Darren Gawle
---

43-second excerpt from "Down on Me" (various formats)


They're back! Australia's perennial underdogs of the 1980's have returned from the rock'n'roll wilderness with a new album, only to find that things are not the way they left them after 1991's Kinky: INXS' Michael Hutchence up and moved to the U.K. to bait the tabloids with his marriage to Paula Yates, and God only knows what has happened to Midnight Oil. Now the musical landscape down under is dominated by Silverchair, You Am I and Spiderbait, leaving us asking ourselves if there's still room for the Hoodoo Gurus.

The comforting thing behind the Hoodoos has always been the "if it ain't broke, don't fix it" ethic behind their music. The problem with Blue Cave is that, though the Hoodoos are journeymen when it comes to kicking out the jams, they just don't do it like they used to in the days of Mars Needs Guitars and Blow Your Cool! The rock'n'roll is still there, but the hooks seem to be sadly absent. Despite tracks like "Down on Me" or the Jethro Tull (!!!!!!!) inspired "Mind the Spider," Blue Cave mostly sounds like Hoodoos-by-numbers.

That aside, the Gurus still rock like beasts of burden: Dave Faulkner still has enough wrenching passion in his vocals, and Brad Shepherd still remains the most criminally-underrated guitarist in modern rock.

So there may indeed still be enough room for the Hoodoo Gurus, provided that Blue Cave means that the Hoodoos have caught their second wind. Could a comeback for one of the 1980's most sorely-missed bands be in the offing? Let's hope so.


P.S. Guys, don't think I didn't notice the hidden advert for Absolut vodka in the CD case. Ryan at Adbusters has been duly informed.



---
First published in Drop-D Magazine on May 12, 1997
Index | Search | E-mail | Info | Copyright

Considering copying some of the images from this story?
Please read this first. Thanks.