Like Swimming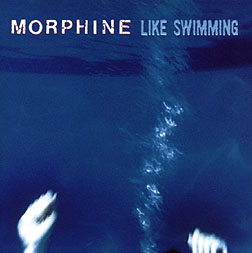 Morphine
Dreamworks/Rykodisc

Review by Darren Kerr
---

45-second excerpt from "Potion" (various formats)


It's last call at Milo's. You order two shots of bourbon as you reflect on the day you've had. You quit your job at Accountantsville. You told the guy who's been after your job for the last year that he's welcome to it -- and to go pound sand up his ass. You bought a fedora.

Why? Because last night you put on Morphine's Like Swimming, which you bought because the name "Morphine" made you feel wicked. All at once, Mark Sandman's smooth voice swept over you in songs like "Early to Bed," "Potion" and "Wishing Well," and you felt like drinking heavily. Dana Colley's slinky sax licks on the instrumentals "Lilah" and "Swing It Low" gave you confidence. Suddenly, you didn't know whether to buy a gun and go on the grift or write the great nomadic novel like Bukowski or Kerouac.

Present time. You wake from your reflections and see a woman across the room giving you the eye. Sure, she's more Anjelica Huston than Annette Bening, but with the tune of "I Know You (Part III)" going through your head, you think, tonight I'll settle.

Moral: Morphine can make any schmuck feel like Mike Hammer.



---
First published in Drop-D Magazine on May 12, 1997
Index | Search | E-mail | Info | Copyright

Considering copying some of the images from this story?
Please read this first. Thanks.