A World Without Dave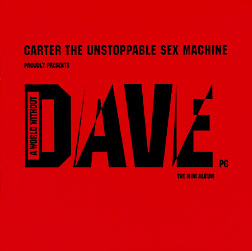 Carter the Unstoppable Sex Machine
True North/Universal

Review by Darren Gawle
---

45-second excerpt from "And God Created Brixton" (various formats)


Jim Bob, Fruitbat and Wez are back on a new record label and with a new mini-album that illustrates the shape of Carter U.S.M. to come. There's still the music hall and Bertold Brecht flavouring that there always was, and Carter are still the less-dogmatic disciples of Billy Bragg. This time they have seen fit to provide us with the "hi-energy-wobbly-arse-dance music" (it says here) of "And God Created Brixton," the upshot of which is that they're still not likely to be played on Z95. The wistful "Nowhere Fast" is the album's highlight with its observation "The North and South are divided no more / So you and I can be equally poor." You still probably won't admit to your britpop friends that you like Carter U.S.M., but they do provide some good Sunday "morning-after" listening.



---
First published in Drop-D Magazine on May 17, 1997
Index | Search | E-mail | Info | Copyright

Considering copying some of the images from this story?
Please read this first. Thanks.