Miss Rocket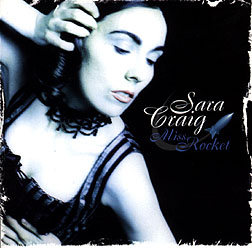 Sara Craig
Attic

Review by Darren Gawle
---

45-second excerpt from "Hey Beauties" (various formats)


This could have been a pretty good album. Sara Craig sets herself apart from your usual female singer/songwriters by virtue of some good instrumentation and production. Slinky, sexy rhythms abound and there's chorus on the cellos and tremolo on the guitars.

The problem here is that, although Craig comes up with songs that sound good, the ideas therein usually end up going nowhere: crescendos build up to nothing, and there's surprisingly little harmonic movement. "Breakwall" is a prime example -- great rhythm, but it does little more than slide up and down the guitar neck from D to B minor for 5 minutes.

The album is also marred by occasionally crap lyrics such as "How do you do? / How far is the zoo? / I ride buses when I'm searching for you know who." Craig will probably do better than this next time, so, for now, Miss Rocket gets filed under "must try harder."



---
First published in Drop-D Magazine on May 17, 1997
Index | Search | E-mail | Info | Copyright

Considering copying some of the images from this story?
Please read this first. Thanks.