A Soul in the Hand is Worth More Than Two in the Bush
Bush
with Veruca Salt and Souls
GM Place
Vancouver, B.C.
Thursday, June 19, 1997

Review by Darren Kerr
Photography by Rodney Gitzel
---

I sat on the stairs of GM Place watching old vacant panhandlers attempt to ply their schtick on the few stragglers vaulting down from Gate 3. I had to think, "How did I come to be here?" I hadn't bought into the whole grimace-and-smile pre-packaged angst that these sassy Brits known as Bush have rode into the stratosphere like a Billboard bullet train. I wasn't here for the stage show, for sure: the seats I ended up with were bad, really bad. If I had known that I was going to have the same vantage point that the Goodyear Blimp cameraman has at football games, I would've given my tickets to a wino.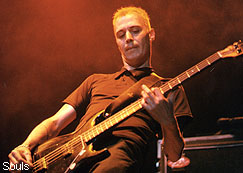 From the land of Abba come Souls, the opening act. Fronted by a swirly thing who sings like Bjork did in her Sugercube days, they put out a set of tweaked heavy pop songs from their Bird Fish or Inbetween album that, lo and behold, didn't suffer from the constant sameness as did, er, Veruca Salt. Their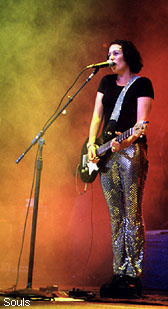 last song was an epic of guitar feedback and smoke and mirrors called "Fuckmonkey," which ended with vocalist Cecilia Nordlund screaming "fuck me and fuck you!!" The band was animated and probably would've been loads of fun to watch, but from the nosebleed seats it was like watching a well-lit flea circus.
Girls to the left of me. Girls to the right of me. Girls behind me. Section 103 at one point thundered, "You suck!!" They bellowed this because Souls didn't taste like flavour crystals of the month. But, really, now, did I expect most of this crowd to display tact and diplomacy? No.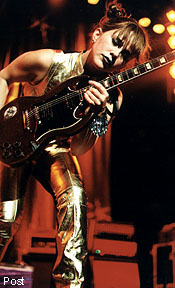 With the raising of a huge banner of the octopus from the cover of Eight Arms to Hold You, the gumball rally cheered, and were locked and loaded for Veruca Salt. Nina Gordon and Louise Post have made the transition from cutesy pop upstarts to big league wet dream rock queens with ease. "Seether" created the buzz, and "Volcano Girls" and "Shutterbug" (with its Victorian eyepopper of a video) solidified and confirmed the fact that the band is rising up the food chain rapidly.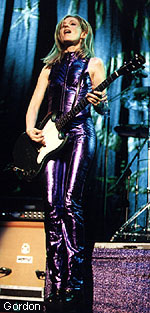 (And at this point, I must swear that the Georgia Straight's Steve Newton was reading my mind when he wrote in his review that described Gordon and Post as "the purple ant" and "the gold ant." Those were the exact words I was going to use. Thanks a lot, Steve, now I have to come up with a new angle...)
The ladies were looking very chi-chi and glitter elegant, tonight, one in purple, one in gold, but for all I knew, Chelsea Clinton could have been the gold shiny thing. These were athletic shiny things, though, leaping about the place doing scissor-kicks, mimicking pogo sticks, head-banging and just plain rocking out. The drummer was stone solid, playing challenging rolls and laying out a heavy backbeat while throwing his sticks in the air and bouncing them off his floor tom.
"Seether" started out deceptively slow and loungy before breaking out full tilt with more speed and oomph than the recorded version. "Volcano Girls" was preceded by a shout of "this is for all you hot motherfuckers," which prompted the audience to scream because, of course, kids love profanity. The band played a great version of "Spiderman," with the guitars thick and chunky like stew. The best song was "Earthcrosser," because it had a vibe, not just a formula. Still, too many songs sounded the same, which is such a common ailment that it seems, for the most part, to be the rule rather than the exception.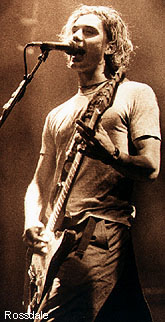 Now, Bush have done something for this tour which I respect: they filmed new footage for projection on the videotron, rather than stealing from their videos. And the videotron helped them out immensely, as it let you see the male modelness of vocalist Gavin Rossdale without having to go from memory. Some of the bondage images on the screen, though, made some parents flinch -- they were probably hoping that sweet Sally's boyfriend would never do that to their number one daughter. (And it's interesting that Bush's brand of psycho-sexual intensity is so popular amoung young teens. Would it be the same if Bush were fronted by someone who looked like Shane McGowan or G.G. Allin? No, of course not...)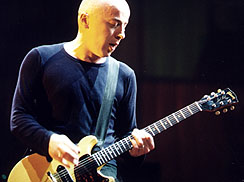 Does it seem like I'm avoiding writing about the music? Well, it all sounds the same to me. Melodramatic spleen-venting over neo-grunge. Where Nirvana had excitement, danger and pure vitriol, Bush have angst, Michael Bolton-ish angst. Ha ha ha. Shut up.
That said, "Insect Kin" was excellent, with chugging riffs clashing with an evil melody. "Contagious" was also really intense and full of depth, with Dave Parsons' bass leaving depth charges throughout the song. "Everything's Zen" had everyone singing along, of course, as did "Machinehead." The highlight, though, came when Rossdale came out solo with just his guitar and gave truly emotional readings of "Straight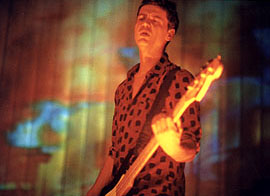 No Chaser" and "Glycerine," which left a few teenyboppers beside me tearing up, and a few parents exchanging glances of "He can sing, I'll give him that."
I left during the first encore of "Swallowed," because I figured I had heard everything, I didn't think they had anything left. I was wrong: they played another four songs in my absence.
I would like to see all of tonight's bands in a smaller venue. GM Place -- and arenas and stadiums in general -- are too sterile. But, judging from the faces of the kids leaving the building, they wouldn't have cared whether this show was in a shoebox or the Grand Canyon.
---
First published in Drop-D Magazine on July 12, 1997
Index | Search | E-mail | Info | Copyright

Considering copying some of the images from this story?
Please read this first. Thanks.