Saturday Morning - Cartoons' Greatest Hits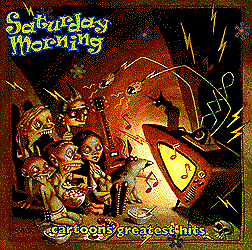 Various Cool Artists
MCA Records

Review by P. Freako
---

30-second excerpt from the theme from "Spiderman" (various formats)


Cute? Cool? Trendy? Ya. Oh well. This is still worth listening to on those weekend mornings after an extra late night. A plethora of 'toons to please your pop appetite. You get a bit of everything in this album, from the poetically innocent version of "Let the Sun Shine In" (Pebbles sang it on The Flinstones) performed by Frente!, to face to face's punkified "Popeye The Sailor Man." It's fun to listen to in small doses. Throw in the Ramones doing "SpiderMan" and the Reverend Horton Heat displaying his awesome punkabilly guitar talents on "Jonny Quest/Stop That Pigeon" and you get the picture. Other notables include Helmet's "Gigantor," the Butthole Surfers' "Underdog" and Liz Phair's "The Tra La La Song (One Banana, Two Banana)." But if we're talking Saturday mornings, here, then how the hell did they miss "The Bugs Bunny/Road Runner Hour"?! I mean what about "Road Runner, The Coyote's After You"? It's a classic! You won't find it on this album -- they're probably saving it for one of those ever popular sequels. Bastards!! All the same, this is a goofy album, so treat it as such: listen to it and laugh -- you'll enjoy it. If you don't I'm going to have Hong Kong Phooey come over and kick your bony little ass!




---
First published in Drop-D Magazine on April 4, 1996
Index | Search | E-mail | Info | Copyright

Considering copying some of the images from this story?
Please read this first. Thanks.