Homemade Blood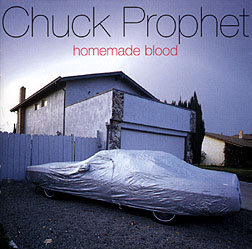 Chuck Prophet
Cooking Vinyl / True North

Review by Darren Kerr
---

45-second excerpt from "22 Fillmore" (various formats)


Chuck Prophet is in the same category as the Loud Family's Scott Miller (also ex of Game Theory), those artists who have been making great music for years but who somehow have fallen through the cracks of my record collection until now.

Prophet was in the band Green on Red, which, along with Wall of Voodoo, cornered the market on so-called 'cowpunk.' Now, with Homemade Blood, he reveals himself to be a loose, unkempt rocker, part Iggy Pop, part Ray Davies. Stompers like "22 Fillmore" sit nicely alongside the eerie, sparse "Kmart Family Portrait" and the rural detail of "New Year's Day." Guitars chime and ring like they've been hangin' out surf side, and Stephanie Finch's harmony vocals blend well with Prophet's own heart-felt rasp.

Nothing to sell your kids over, but strong songs and musical chops will always welcome at my house.



---
First published in Drop-D Magazine on July 12, 1997
Index | Search | E-mail | Info | Copyright

Considering copying some of the images from this story?
Please read this first. Thanks.