Aftertaste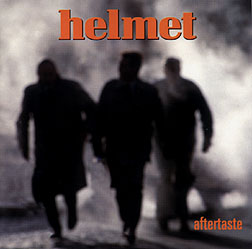 Helmet
Interscope

Review by Kevin Templeton
---

45-second excerpt from "Birth Defect" (various formats)


Had I not received Helmet's latest disc for review purposes, I probably would've passed it by, as I disliked 94's Betty, the group's last offering (which I had impulsively bought). It's three years later, and, as to be expected, Aftertaste continues on in the same polished grunt-metal vein, narrowing yet advancing Page Hamilton's songwriting "prowess" to blunt new levels on cuts like "Pure," "Like I Care," and "Birth Defect." Helmet's formulaic songs involve working a groove to the hilt, and it usually makes for interesting, if tiresome, listening, and their latest workout is no exception.

Although I consider myself a fan of Helmet's riffs... er, music, I can't help feeling that they could sound a little more dangerous than this. Still, rock 'n roll needs more voices like Hamilton's and Aftertaste may well prove to be your last chance to get in on the flavour.



---
First published in Drop-D Magazine on July 12, 1997
Index | Search | E-mail | Info | Copyright

Considering copying some of the images from this story?
Please read this first. Thanks.