OK Computer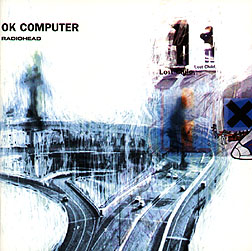 Radiohead
Parlophone / EMI

Review by Darren Kerr
---

45-second excerpt from "Paranoid Android" (various formats)


The space cadet contingent on Mars [ed. Smile for the camera!] must be praying for the safe return of interplanetary heroes Radiohead, who have been gone now for about four years (what that is in Martian time I haven't the faintest). The infiltration process has gone very well, though: you would swear that Radiohead are both British and human. However, the astonishingly lyrical music they have created is definitely not of the Earth.

OK Computer speaks volumes about Radiohead's stay here. Homesick and fighting bouts of paranoia, they temper their anguish with beautiful melodies and jarring turbulence. On "Airbag," when the one who calls himself Thom Yorke states, "I am born again," you get the feeling that he might not like what he has become, and when he sings "God love his children, yeah," you can sense his sarcasm. "Subterranean Homesick Alien" is a slow, flowing sonic support group for other homesick extraterrestrials, with echoed guitar notes that hang like ornaments. "Paranoid Android" has gossamer wings, but will turn like a mongoose and rip your flesh; the guitar riff in the transition and the chanted pre-ending are proof positive that Radiohead are working with the four elements, and not just the three primary colours. "Exit Music" is a breathy piece, with lyrics of forbidden love, threats borne of passion and yet another stellar melody. "Karma Police" speaks of girls with "Hitler hairdos" and relays more threats through the song's lumbering rhythm lines. And "Lucky" is simply fucking lovely.

These aliens known as 'Radiohead' have concocted a masterpiece of intense restraint. Pray they remain on Earth.



---
First published in Drop-D Magazine on July 12, 1997
Index | Search | E-mail | Info | Copyright

Considering copying some of the images from this story?
Please read this first. Thanks.