Losing Streak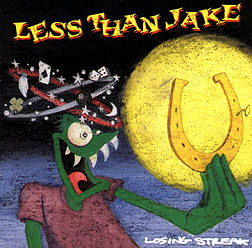 Less Than Jake
EMI

Review by Darren Gawle
---

45-second excerpt from "Automatic" (various formats)


Gainesville, Florida is not necessarily the first place to come to mind when thinking of ska, but Less Than Jake would probably like to change that. Losing Streak, their major-label debut, shows that finally the world may be getting beyond crap three-chord punk and is moving on to punk's long-maligned cousin, ska. At least you need a bit more instrumental proficiency to play ska, and there's nothing wrong with that.

Less Than Jake have more than enough energy in these 16 tracks (most of which clock in at under 2:30 minutes) to hold your attention, but a problem arises in that there's not a lot of variety, tempo-wise. Almost all the songs follow the same hyperactive route through their melodies, and Losing Streak ends up a blur of crunchy guitars with a horn section. "Dopeman" is a notable exception, if only because it's marginally slower than the rest of the album. Maybe Less Than Jake could stand to recall that two of the Specials' best songs ("Message to Rudy" and "Ghost Town") are comparatively slow, and convey a lot more soul.

A good album (it's pretty hard to fuck up ska, at any rate), though the presence of one of the guys from Big Country in the credits gives cause for concern.



---
First published in Drop-D Magazine on July 27, 1997
Index | Search | E-mail | Info | Copyright

Considering copying some of the images from this story?
Please read this first. Thanks.