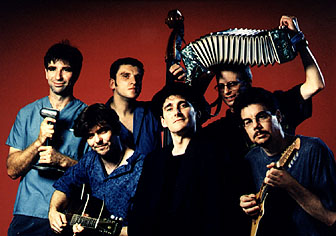 Living Life in a Six-Ring Circus
Doug Andrew of the Circus in Flames
Interview by Pieter Hofmann
Photography by Dan Zubkoff
---

45-second excerpt from "Down on the Fraser" (various formats)


According to the ringmaster of the Circus in Flames, Doug Andrew, life is too short to worry about a multi-record contract or playing under the big-top. After years of playing the Vancouver circuit with such bands as Shanghai Dog and Tin God, what matters most for Andrew is the music, not the accolades. While not dismissive of any potential major label interest, Andrew is a realist, and, at the age of thirty-nine, he understands the way the industry operates.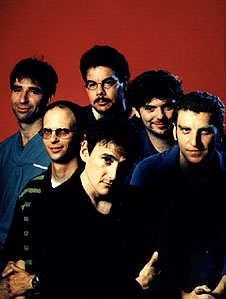 With the Circus in Flames' self-titled debut release, the sextet flies in the face of conventional musical wisdom. The disc is an A&R rep's marketing nightmare. Falling between the cracks of folk and rock, the eponymous album readily distinguishes itself as working-class, unafraid of the consequences. As Andrew describes it, the twelve songs are "'sheet-metal country,' often rattling like a junkyard between the lighter and quieter times."
The obvious references to Tom Waits, Hank Williams Sr. and Jimmy Rodgers (whom they cover with "Waiting for a Train") attach themselves easily, as do others. "I'm a big Dylan fan," says Andrew. "Particularly The Basement Tapes, when he was with the Band. I love albums that really aren't studio albums. They never intended to release any of that stuff. It's real. They played for the joy of playing, not for the sake of who was going to buy it."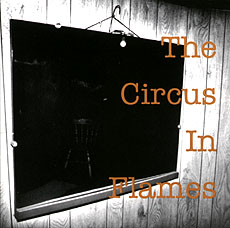 Dylan's 1975 prescient country-rock album may be the best benchmark in the descriptive fold for the Circus in Flames. Recorded during a nine-month span in assorted kitchens, basements and living rooms in Vancouver, the album has an unpretentious down-home feel. "We kind of fall into a no-man's-land. The folk people don't think of as folk and the rock people don't think of as rock. It may be a tougher sell, but you have to blaze your own trail."
A mutt-dog of former and present bands, the six-piece carries forth a tradition, what Andrew's describes as "semi-professional rock and roll." Andrew met the other members through various friends and jamming and pick-up hockey. Buffering Andrew's vocal twang are upright bass player Bernie Addington (Family Plot, Sook Yin Lee, Soul Crib), Brian Barr on mandolin, banjo player (and former bassist) Mark Brichon, drummer Everett Raeburn (Family Plot, Bamff) and accordionist Rodney James Wawryk.
"What's good about this record is that it doesn't resemble any of the other bands, soundwise," says Andrew. "It has its own particular trademark. No one brought in baggage from those other bands. We started out like a blank page. We came into it with certain parameters but when it went through the wash it became its own entity. Everyone put their own little stamp on the record."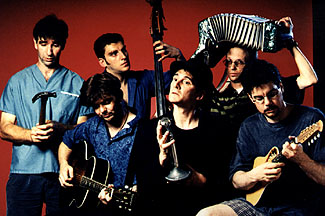 Lyrically, Andrew is a storyteller, focusing on common folk like flyer delivery boys, mill workers and beer-slingers, and his yarns are velvet paintings of bullfighters and Elvis rather than Picassos. "I like to tell stories," he says. "They aren't biographical. Some of them you make up a little bit. Some you bullshit a bit. Some happened a little bit and some could happen to someone. It's not like a court testimony where you are under oath."
In a year where a host of local acts have released independent albums, the Circus in Flames do stand out. Not only is the album on the periphery of any of the latest trends, but the disc belies a timeless quality. While it may be rather early for top ten lists of the year, throw a vote towards the album for Vancouver indie release of the year. Just don't expect to hear it on the radio; that would be too much to ask.
---
First published in Drop-D Magazine on July 27, 1997
Index | Search | E-mail | Info | Copyright

Considering copying some of the images from this story?
Please read this first. Thanks.