Self-Titled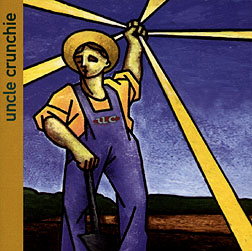 Uncle Crunchie
Watch Music / Universal

Review by Gisele Grignet
---

45-second excerpt from "For All That Think" (various formats)


These boys from Ontario grabbed me by the throat and didn't stop. This CD has a creepy intro and the rest really rocks hard. "For All That Think" generates a fantastic wall of sound with a very catchy riff. "Swanko" is my favourite, spelling out some serious phone sex frustration. "Meatball" sounds like a keyboard special locked in a lunch bag fighting it out with the Offspring. "Teddy Bare" gave me visions of Marilyn Manson, and "Headbutt" is very dreamy, very cool. This band clearly has a variety of influences, which gives them a lot of diversity and originality. Yay! It's always nice to hear a band that isn't just a cover version of their favourites.

I'd recommend this record for sure. Now let's hope they tour.



---
First published in Drop-D Magazine on August 9, 1997
Index | Search | E-mail | Info | Copyright

Considering copying some of the images from this story?
Please read this first. Thanks.