20 Years of Stony Plain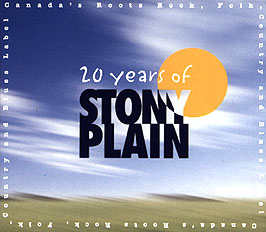 Various Roots Rock, Folk, Country and Blues Artists
Stony Plain


Review by Gary 'pigboy' Swartz
---

44-second excerpt from "Navajo Rug" (various formats)


This offering from Edmonton's Stony Plain Records, self-described as "Canada's Roots Rock, Folk, Country and Blues Label," is a difficult CD to review. (For a long time, actually, the operative word was impossible, and I'm a bit surprised I finally got this far.) But it's a good kind of difficult -- one might even say an exceptional kind of difficult -- because this is an exceptional kind of compilation, with 'normal' being the kind of direct-marketing stuff you see on late night TV: 14 Head Banger Hits (that will make your ears bleed), 13 Romantic Disco Delights (sure to get you laid or a full refund less shipping and handling) or 12 #1's From the Seventies (by groups that were never heard from again), etc.

WHY DIFFICULT #1: This 2-CD compilation contains material from 40 distinctive artists and groups with only the smallest bit of overlap (group members who went solo, odd pairings, etc.). Which creates the first difficulty: Do you list all 40? Do you name drop based on artists who at some point in their career achieved major popular acclaim? Top 10 success? Or do you wax eloquent about personal favourites? It's all there. So maybe you simply say, "Few radio stations manage to showcase this much talent (I use the word deliberately) in a 24 hour period, if not longer." And that alone is reason enough to add it to your collection.

Ah , what the hell.

Steve Earle, Great Speckled Bird, Grievous Angels, Cindy Church, Jr. Gone Wild, Amos Garrett and Maria Muldaur, Sylvia Tyson, Spirit of the West, Jesse Winchester, Gary Fjellgaard, Rita Chiarelli with Prairie Oyster, Webb Wilder and the Beatnecks, Paul Hann, Austin Lounge Lizards, Doug Sahm and the Formerly Brothers, Jo-El Sonnier, Bobby Charles, South Mountain, Tom Russell and Ian Tyson, Ian Tyson on his own, the Duke Robillard Band, Jimmy Witherspoon, the Holmes Brothers, Maria Muldaur, Lowell Fulson with Powder Blues Band, Long John Baldry, Dutch Mason, Coco Montoya, Jim Byrnes, Roosevelt Sykes, Amos Garrett, Downchild Blues Band, King Biscuit Boy, King Biscuit Boy and Crowbar, Professor Longhair, Ellen McIlwaine, Johnny Shines with Sugar Blue, Paul James with John Hammond, and Walter Shakey Horton with Hot Cottage.

WHY DIFFICULT #2: The material is all over the landscape, and doing it justice creates the same major headache that identifying the artists created. It's everything Stony Plain's self-description promises: roots rock, folk, country and blues. From serious artists, seminal artists, satirical artists and so on artists. Great vocals, great solos, great instrumental conglomerations. So do you rave about the songs, or musical styles that push the right personal preference hot buttons -- and ignore the rest? (To be honest there's nothing on here that didn't do a bit of button pushing -- just some more so than others.) Do you list songs written by the compilation performer that have become classics -- usually by other artists? Do you concentrate on material actually produced by Stony Plain? Do you list the stuff culled from the best of independent labels from South of the 49th and released up north by Stony Plain? Do you point out major label re-issues? It's all here. Maybe you simply say, "There's a lot of music offered here you'll never hear on the radio and the rest is music you'd spend weeks dial-surfing to hear." And add that this is music that definitely deserves a hearing. Multiple hearings. (At the very least if you're a musician, as it's a great place to steal from.)

WHY DIFFICULTS #3 & #4: Now we're getting down to the nitty gritty of things. The biggest part of the problem with this collection is that when I put on Disc 1 -- the folkier, 'softer' selections -- the bulk of the music is so laid back that I really don't feeling like doing much of anything, certainly not writing, except maybe finding a porch with a spectacular view, cracking open a jug of shine, putting the flame to a big fat cigar and thinking to myself "Life is good." Talent that normally falls through the cracks has found a home at Stony Plain. And all the crap that can ruin a day will still be there tomorrow. Today is for me.

Next I put on Disc 2 -- the blues -- and my body starts moving, my knees start shaking and before you know it I'm thinking of inviting over the neighbourhood for a wang dang doodle. Then, as the last note of the last song slowly fades I'm realize I'm now much too tired to do much of anything, especially writing, and that the most sensible thing I could do would be to play Disc 1 again. Which, now that I think about it, sounds like a really great idea.

Catch you in a month or so.



---
First published in Drop-D Magazine on August 22, 1997
Index | Search | E-mail | Info | Copyright

Considering copying some of the images from this story?
Please read this first. Thanks.