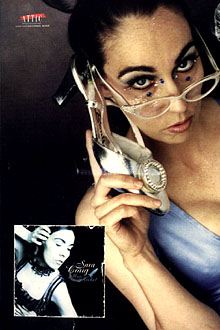 A Polite Rocket
Toronto Songstress Sara Craig
Interview by Pieter Hofmann
---

45-second excerpt from "Pushing You Away" (various formats)


If you're looking for clever quips and witticisms, you've come to the wrong place. Sara Craig is not like that. She could be considered a journalist's worst nightmare: quiet, composed and, of all things, polite.

Ask her a question and you get your answer, but nothing outrageous or imminently quotable in a National Enquirer context. Quite plainly, Sara Craig is a nice artist, happy with herself and music. If the Canadian stereotype was ever typified, Craig personifies it. Pray she never meets Dennis Rodman.

Over a bowl of fruit, Craig excuses herself from the phone to close a window in her Toronto apartment because a wind is starting to stir. "At the moment I'm getting ready for a dance performance that I'll be doing tomorrow as part of the Fringe Festival," she explains. Craig, who has, as she says, "bare bones training in theater," will dance in a solo piece she created. "I'm quite nervous about the whole thing. When I'm on stage playing my music I'm mildly frightened, but this will be something completely different for me."

Asked if that is a direction she plans to follow, Craig says she clearly enjoys it but prefers the musical side of her life. "I'd like to go into theater, but I'm not a 'group' person. By default I pursued 'Sara Craig' the singer. Even though I have a band and management, I don't have to audition. Maybe sometime in the future I'll be able to do what I'm told."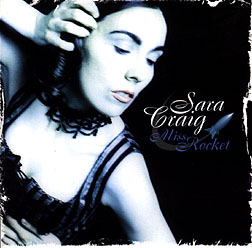 Lately, Craig has been on tour (most recently as the token female on the Edgefest Tour) in support of her latest album, Miss Rocket. Reminiscent of Jane Siberry, Lisa Germano and Mary Margaret O'Hara, Miss Rocket's advantage is its sound. Produced by Chris Tsangarides (Tragically Hip, Concrete Blonde), the disc takes a subtle approach to pop. Anne Bourne's cello soothes the songs while Pandit Dinesh adds exotica with his tabla and percussion playing.
Key to the albums' quality is collaborator Gary Orme. Adding keyboards and drums, he also co-wrote most of the material with Craig. Orme was the first to join Craig when she moved to Toronto from Hamilton and released her self-titled EP in 1991. Craig's full-length debut, Sweet Exhaust, appeared in 1994.
On her three musical outings, Craig used an equal number of producers. "I can't see why many artists would want to work with the same producer each time," she says. "It's like my albums: I think Miss Rocket is different from Sweet Exhaust because of producers and because there were a few years between the albums. As well, I'm older now, and I don't want to sound like my last album. That would be boring."
Recorded in England at Metropolis Studios, Miss Rocket blossomed because of the "good vibes," Craig says, of everyone that worked at the studio. "It was decorated by an art student and had a really good feel. The people were so helpful, always asking if you wanted a cup of tea or anything else."
Before entering the studio Craig had most of the album's ten tracks worked out. "Some songs were nothing but torture to work on. We wanted to throw many of them out, but for some reason we didn't, and fortunately they bloomed into pieces we really liked."
Craig, who by her own admission plays lousy guitar, says with a laugh, "I do play guitar on the album, but I don't think I need to be credited for that. Les Cooper played most of the guitar and he was really good. I felt sorry that he had to work with me. Guitars for me are like oil and water. They have too many strings. Every guitarist has always had a problem with me. I don't like the typical chord structures, so I make life miserable for them."
While she considers herself more of a performer than a singer/songwriter, Craig's influences are rather surprising. The comparison to Siberry and people of that ilk are relatively low on her inspiration chart. "The people I really like I've never been compared to. I listen to Eartha Kitt and Tina Turner a lot. I guess it's not that I'm inspired so much by their music but by their theatrical edge. My songs aren't really in the singer-songwriter vein -- I've never written a song that you can sing around a campfire."
"I love being in the spotlight as a performer. When I'm on stage I crave it. But when I'm off stage, I really don't want anything to do with it."
---
First published in Drop-D Magazine on September 13, 1997
Index | Search | E-mail | Info | Copyright

Considering copying some of the images from this story?
Please read this first. Thanks.