Drag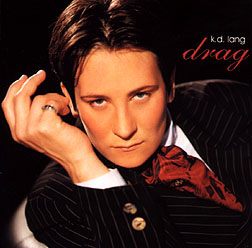 K.D. Lang
Warner

Review by Alphonse Leong
---

45-second excerpt from "Hain't It Funny?" (various formats)


No, the title doesn't refer to cross-dressing, but rather points to the cigarette theme running through this collection of atmospheric songs by a wide variety of writers (excluding Lang). Anti-smoking lobbyists won't like lyrics like "Puff, puff night and day/Puff, puff your cares away" ("Smoke Rings"), though they may be charmed by the sardonic wit and sophisticated anguish of many of the tunes.

Lang's torchy delivery on the Jane Siberry composition "Hain't It Funny?" is exquisite, and she is as equally adept on David Wilcox's sleepy, but haunting, "My Old Addiction." Her slow version of Steve Miller's "The Joker" won't make you forget the original, but Lang does have a way of interpreting other people's songs that shows a real command of a host of traditional genres.

Funny, though, that Lang is vehemently opposed to meat consumption, but has no compunction in putting out a CD filled with tobacco allusions!



---
First published in Drop-D Magazine on September 19, 1997
Index | Search | E-mail | Info | Copyright

Considering copying some of the images from this story?
Please read this first. Thanks.