Presents the Carnival featuring Refugee Allstars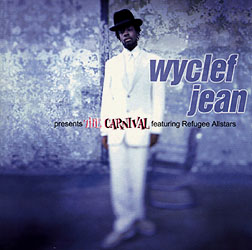 Wyclef Jean
Ruffhouse/Columbia

Review by Darren Kerr
---

45-second excerpt from "Apocalypse" (various formats)


Fugees main man Wyclef Jean has given forth his first solo joint, and let me tell you, Q, it is smooooooth, it is playful, it has body, heart and soul.

There are quite a few notable players on this project: Celia Cruz, the Neville Brothers, Funkmaster Flex, the legendary I Threes and, of course, Lauryn Hill and Pras Michel. Jerry "Te Bass" Duplessis is tight on the bass throughout, knowing that the key to true funky riddim is staying in the pocket.

This is some hip-hop. "Apocalypse" is like Digable Planets with 'Clef rapping sweet over a lovely female vocal sample. "Gone Till November" is a boppy number that'll be all over you like a sunburn. "Sang Fézi," "Jaspora" and "Yelé" find 'Clef entering native Creole territory with fine results, while "We Trying to Stay Alive" is Saturday Night Fever strut and dance fight boasting, and "To All the Girls" is 'Clef's apology to all the girls he's cheated on in the past. In between some of the songs are interludes -- skits -- that detract somewhat from the flow, but which aren't overly annoying or painful.

A very enjoyable diversion for while you're waiting for the next Fugees gold mine.



---
First published in Drop-D Magazine on September 19, 1997
Index | Search | E-mail | Info | Copyright

Considering copying some of the images from this story?
Please read this first. Thanks.