In Tight with God and the Purple One
Prince, The Artist, TAFKAP, Symbol Dude, Whatever
with Graham Central Station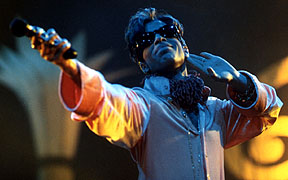 G.M. Place
Vancouver, B.C.
Friday, September 26, 1997

Review by Darren Kerr
Photography by Rodney Gitzel
---

When I told some of my more narrow-minded acquaintances that I was going to see 'the Artist,' the standard utterance was "better you than me," which I don't understand. Even if you have been cultivating disco hatred since the gatefold days, when Ted Nugent's guitar was blowing the balls off a great white buffalo at fifty paces, you can't deny that the Purple One flat out rips the joint.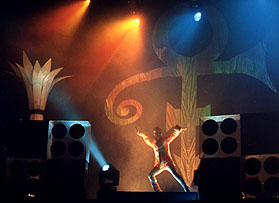 Granted, Paisley Park has been about as popular as Euro Disney, Chaos and Disorder barely tasted gold status, and the triple-disc set Emancipation was either a planned overblown epic or lavish hari-kari (the jury's still convening on that one). Still, the Artist is savvy enough and uber-talented enough to know that he can eclipse the hype and the anti-hype with one well thrown-down jam.
Thus "Jam of the Year" sets things off tonight with the mixed-gender band flanking the Artist as he stood looking like a peach jumpsuited messiah. Though he set out to prove that he may not be 'Prince' anymore, he is still the god of spiritual cheese food, spouting pompous speeches about how he and God are tight and how we should "sing the chorus like [we] believe in God." I wonder what God thought when the Artist told the parents in the audience to "please remove your children" before ripping into "Face Down," "One of Us" and "Sexy Motherfucker." It's hard to take him seriously when he jumps from being the Hallmark God of Funk to Blowfly.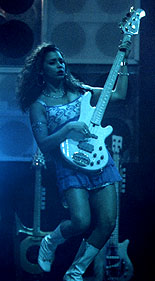 There were a few moments in this show that had me scratching my head. He whipped the crowd into a frenzy with "Little Red Corvette," only to snatch the song back after one chorus, going instead into the tepid workout, "Get Yo Groove On." He seemed to be toying with his fans, giving only Stars On 45 versions of "Raspberry Beret," "Delirious" and "Diamonds & Pearls." This medley that wouldn't end got bloody annoying, after awhile.
Still, there were enough moments of brilliance to tip the scales in the Artist's favour. "Face Down" and "Sexy M.F." were raunchy piledrivers which had all the bored housewives doing the nasty boogie in the aisles; the former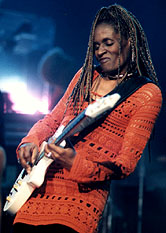 greatly benefiting from a stellar performance by the white go-go-booted and bass-playing beauty who tore strips off me with a solo that must've made opener Larry Graham sit back and go 'DAAMN!' And the magic came whenever the Artist strapped on his symbol-shaped (yes, that symbol) guitar for one of his frenetic solo workouts, or when he played wicked piano (at one point giving forth some fantastic vaudeville swing).
The show ended in powerhouse fashion, with the triple-threat of "Kiss," "Gett Off" and "When Doves Cry." "Gett Off" was transformed into a jam which had the crowd singing along with 'V-A-N-Couver!' It's sure nice to hear your city acknowledged in song, but I couldn't help thinking that if he was playing New Mexico they would've been chanting 'A-L-B-E-Ker-Kayyyyy.'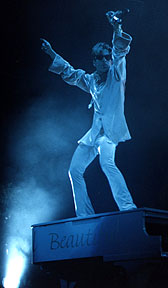 A good, solid show, to be sure. But I can't help thinking that his best work is behind him, and that I missed the boat.
Openers Graham Central Station were a special treat for me, a bass player, as Larry Graham is the father of slap bass. Indeed, he was one of the, if not the, first to put thumb to E-string. His elastic bass lines, along with Sly Stone's soulful rumble, were the main elements of the Family Stone sound, so many years ago.
Now, he and his eight-piece band played adequate renditions of such hits as "Everyday People," "I Want to Take You Higher" and "Family Affair." Graham spent a lot of time riding a basic groove, marching up and down the aisles, and playing in the crowd like he was a male stripper waiting for people to put dollar bills in his jock. With his pristine white captain's outfit, he could've played Isaac in the Chippendales' Love Boat revue...

[Photographer's Footnote: This show has the distinction of displaying the shoddiest treatment of photographers I've ever encountered at a concert. Not only was the Purple One 25 minutes late, but we were given much less time to shoot than we were told (the first 'song' was hardly more than an intro). The best part, though, came the moment that first 'song' ended: a fleet of large men in dapper suits appeared in the pit, putting their hands in front of lenses and even pulling cameras out of photographers' hands before all but literally dragging us out! And people wonder why Prince doesn't get much respect from the media...]
---
First published in Drop-D Magazine on October 11, 1997
Index | Search | E-mail | Info | Copyright

Considering copying some of the images from this story?
Please read this first. Thanks.