One Step Up/Two Steps Back: The Songs of Bruce Springsteen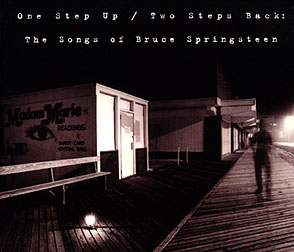 Various Artists
The Right Stuff / EMI-Capitol

Review by Alphonse Leong
---

It's easy to think of Bruce Springsteen as that scruffy, over-rated songwriter from New Jersey who's had his day in the sun, but the truth is that he really does have an amazingly diverse and heartfelt body of work that includes strong output from recent years. Just the fact that artists ranging from David Bowie to Ben E. King to the Smithereens appear on this tribute disc is a testament to the respect he generates in all the hip music circles.

Of the more familiar songs, Joe Cocker does a pleasant "Human Touch," Martin Zeller offers a moving "Darkness on the Edge of Town," while Ritchie Havens delivers a rather tepid acoustic version of "Streets of Philadelphia."

But the lesser known compositions covered by lesser known artists are the ones that really stand out on this two-CD set. In particular, "All or Nothing at All" by Marshall Crenshaw, "Janey, Don't You Lose Heart" by Mrs. Fun/Tina & the B-Side Movement, and "Stolen Car" by Elliot Murphy are impressive treatments of Springsteen tunes that never climbed the charts.

An effort seems to have been made to gather mostly obscure material to match with mostly obscure musicians, but the result is a compilation that is far more listenable than most of the tribute albums that have cropped up in the last while.



---
First published in Drop-D Magazine on December 15, 1997
Index | Search | E-mail | Info | Copyright

Considering copying some of the images from this story?
Please read this first. Thanks.