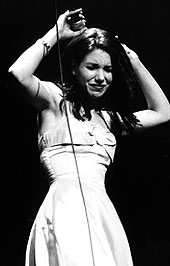 Lounge Ahoy!
Lee Aaron
with the Colorifics and the Molestics
The Vogue Theatre
Vancouver, B.C.
Friday, December 5, 1997

Review by Dorothy Parvaz
Photography by Rodney Gitzel
---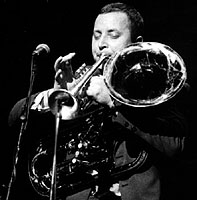 Aside from the two not-so-droll hostesses for the night (lame jokes, amazing dresses), this Blue Lizard Productions night at the Vogue Theatre was bloody terrific.

Kicking off the whole night were the Molestics. If you've never seen these guys, do. Part lounge, part swing, part spoken word hilarity, the Molestics know how to entertain an audience, and they're masters of kitsch to boot. Trumpeter/vocalist Mike Soret's persona alternates between lounge-lizard crooner and straight-up mad man (you've got to see this guy do "Sweet Lorraine"), but the disappointingly thin crowd was familiar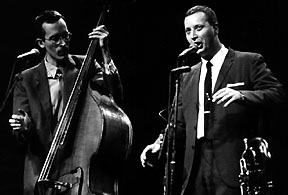 with Soret's antics and remained stirred, not shaken. Yes, keeping up with Soret and the boys was fun. Speaking of the rest of the boys: Drummer Roy Wilkinson plays one of the kookiest sounding drums kits around. And my, my, Gilles Roy on that stand-up bass... very nice.
The Colorifics followed after a brief intermission, as if seeing the Molestics wasn't enough of a treat. The Colorifics have to be seen to be to be truly appreciated. Too bad they've upped and broken up (this was one of the last few shows they'd booked prior to splitting up). Sure, their CD, Living City, is still out there, but it really doesn't compare to seeing the band live. The recent break-up -- due to a lovers' tiff between Lindsay Davis and guitarist Bernie Boulanger -- showed only between songs, when Davis and Boulanger would trade snide remarks and looks that could melt glass.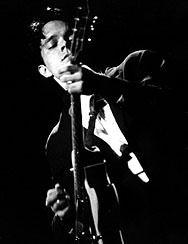 Although Davis' voice isn't particularly powerful, it has a very moving, diaphanous quality to it -- perfect for the Colorifics' sound (loungey jazz circa Antonio Carlos Jobim). I would compare her voice to Astrud Gilberto's, except that Davis' voice isn't flat; rather it whispers and weaves through songs.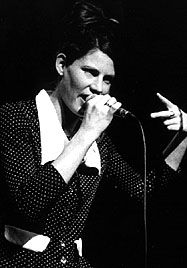 As individual musicians, members of the Colorifics are pretty smooth. As a group, they have the ability to send you into something of a Demerol-induced Vegas dream. Boulanger and Davis ought to work something out, because, man, this town really can't afford to lose a band like the Colorifics.
What a night. Hell, even Satan showed up during the second intermission. Apparently, the Dark Lord's latest incarnation is as a shadow puppet, and there he was, cleverly put up through a white screen on the stage, bantering with the hostesses. But this surreal bit of theatrics did little to prepare the audience for Lee Aaron's set.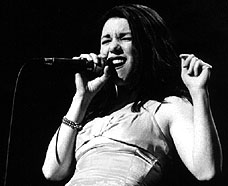 The former Metal Queen took the stage in a vintage peach (peach!) gown and backed by a four-piece band. Despite the distinct absence of thigh-high boots and spandex on stage, Aaron couldn't (and probably didn't really want to) quite pull off the whole Peggy Sue act. She just plain strutted around too much to be mistaken for some 50's song bird.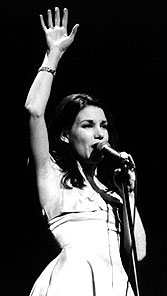 So, Aaron has ditched metal -- and her recent band 2 Preciious? -- for jazz, eh? Good choice, although her act as a torch singer is still pretty rough. When you're singing songs made famous by legends like Etta James, Sarah Vaughn, Ella Fitzgerald, Annie Ross, Nina Simone, Billie Holiday, Peggy Lee -- you get the point -- well, you've got some pretty stiff competition. Aaron might not have the goods, but she has nerve, which will have to suffice until she develops a style suited to the songs she has chosen to perform.
There were basically two problems with Aaron's performance, the first being that she still uses her voice like a rock singer would -- she really belts and grunts at all the wrong times. The second problem was that she didn't seem to be interpreting the songs in any way (then again, maybe that's what those grunts were all about). When you hear Holiday sing "Strange Fruit," or Ross' voice bubble over "Twisted," it's more than just words and notes. You hear misery. You hear elation. Aaron's voice was void of any of those things. It's a strong voice, and she pulled off "Black Coffee" and "My Baby Just Cares for Me" with class, but perhaps until she refines her voice, she should work with some original material tailor-made to her style.
---
First published in Drop-D Magazine on December 22, 1997
Index | Search | E-mail | Info | Copyright

Considering copying some of the images from this story?
Please read this first. Thanks.