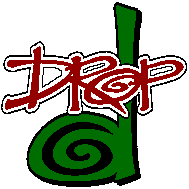 Drop-D Magazine
Vancouver's Music Magazine.
ON the 'Net and OFF.

Merry Christmas!!
As our gift to you, here's a nice big issue to keep you busy over the holidays. See you in January!

December 22, 1997 ~ Vol. 2 No. 33 ~ Issue 82
Features
This is the Real Thing!
Believe it or don't, reviewers do sometimes change their minds.
Live Review: U2 / Smash Mouth, B.C. Place Stadium, December 9, 1997
X Chromosomes Rock the House
All's well that ends well?
Live Review: Girl Feast '97 - Night Three, the Brickyard, November 29, 1997
A Walk with the Spaceman
Britain's aural astronaut splashes down in Vancouver.
Interview: Jason Pierce of Spiritualized, November 1997
Lounge Ahoy!
Two veteran Vancouver 'lounge' acts, plus one veteran 'metal-cum-lounge' act.
Live Review: Lee Aaron / the Colorifics / the Molestics, the Vogue Theatre, December 5, 1997
Not That Easy to Understand
Iceland's latest music export smokes out the Palladium.
Live Review: gusgus, the Palladium, November 25, 1997
Bring on the Vodka and the Yak Fur!
Some nights are more of a surprise than others...
Live Review: Uz Jsme Doma / the High Llamas, the Starfish Room, November 21, 1997

CD Reviews
Long John Baldry - Right to Sing the Blues
Black Lab - Your Body Above Me
Bob Dylan - Time Out of Mind
Four Fraser Valley Punk Bands - Homeless in B.C.
Green Romance Orchestra - Play Parts I and V
Mr. T Experience - Revenge is Sweet, and So are You
Ozzy Osbourne - The Ozzman Cometh
Peach Union / Aqua - Audiopeach / Aquarium
Various Artists - We Will Fall: The Iggy Pop Tribute