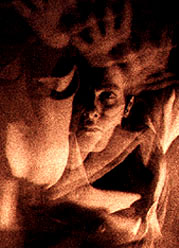 Not That Easy to Understand
gusgus
The Palladium
Vancouver, B.C.
Tuesday, November 25, 1997

Review by Darren Gawle
Photography by Rodney Gitzel
---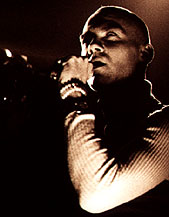 There's something to be said about what bands from musically-marginalized countries have that we Canadians, Americans and Britons don't. It probably comes from not having the mainstream music industry constantly strip-mining the local talent and injecting their own (non)sensibilities.

Whatever the reason, music from, say, the former Czechoslovakia (Uz Jsme Doma, the Ecstasy of St. Theresa) tends to sound eclectic beyond even what the most stoned Commercial Drive buskers could ever hope to produce. And carrying on Iceland's tradition of independent thought, we have tonight's guests, gusgus.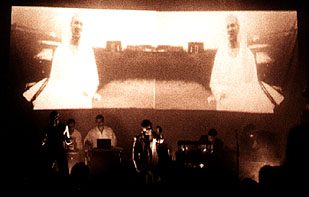 Whatever gusgus might actually be trying to do, they probably wouldn't like to think of it as esoteric-ambient-retro-handbag-goth, but that's pretty much all I can think of to describe it. There's enough gear on stage -- with people in white lab coats operating it -- to suggest the amount of ground they're trying to cover, and, although 'eclectic' isn't a word normally associated with electronic/dance music, with gusgus it's about the only word that hits the mark.
In fact, they do a better job of homogenizing their influences than any other band I've ever heard. If it sounds like ambient electronica, don't expect vocals reminiscent of George Michael or Dave Gahan not to pop up, and sure as hell don't come crying to me when they drag out that old warhorse, the Electric Guitar, for a couple of numbers. You've also probably never heard a band that can steer this close to Bronski Beat territory without coming across like camp cabaret.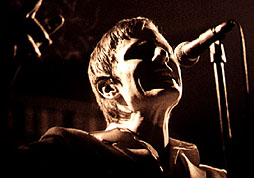 gusgus also bring along a show, too. A movie show, that is, with wide-screen visuals of creepy men jiving, teenage Lolitas in swimming pools, and long shots of Icelandic highways. The only pretentious part of the performance comes in this department, though, with occasional projected quotes like:
"The concept is fairly easy to understand," and...

"What can a boy offer that a man can't?"
Probably, what we have here is that all-elusive bridge between 'respectability' (electronica) and 'camp' (Z95-quality handbag). Certainly, gusgus are inclusive rather than exclusive, and it's about time we had bands like that around.



---
First published in Drop-D Magazine on December 22, 1997
Index | Search | E-mail | Info | Copyright

Considering copying some of the images from this story?
Please read this first. Thanks.