Arival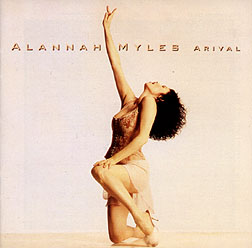 Alannah Myles
Virgin

Review by Alphonse Leong
---

What's with Alannah Myles? She's well into middle age, yet she's got photos of herself clutching her boobs and hitching up her skirt shamelessly in her CD insert. She misspells 'Garfunkel' in her thank-you list. And let's not mention the pretentious -- or, heaven forbid, accidental -- misspelling of the CD's title. Amazing that this woman once had a number one hit in the States and was pulling in Juno Awards.

A hostess at the Whip Gallery Cafe said, "Poor you," when she saw I was going to be reviewing this disc. Now I know what she meant! For starters, this is a double disc, God knows why. The second disc features a boring live version of "Black Velvet" and a reprise of a new track called "Bad 4 You" (You said it, lady!). Throughout most of this disc set, Myles' edgy rasp is just a hindrance to appreciating the fine acoustic guitar work by Michael Borowsky (with especially great slide on "The Great Divide"). Indeed, the musicianship on this CD is the only thing you can hang your hat on.

Myles cowrote this album with a whole bunch of writers, including Christopher Ward, and the results are confusing at best. "What Am I Going to Do with You" and "Chained (Final Rescue)" are about the most listenable. I admit I've got her first album and I still like it, but this latest release only adds to her post-debut blues.



---
First published in Drop-D Magazine on January 25, 1998
Index | Search | E-mail | Info | Copyright

Considering copying some of the images from this story?
Please read this first. Thanks.