Novelty Forever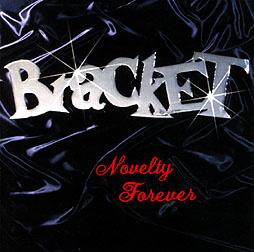 Bracket
Fat Wreck Chords

Review by Michael O'Donahue
---

Bracket are four guys from Southern California, and their album in on Fat Wreck Chords. Y'know what that means: Modern Punkypop Fun! So what makes these guys different? Well, the singing is reminiscent of Billy Joe from Green Day doing Layne Stanley from Alice in Chains. Sometimes. This does get on the nerves, at first, but you get used to it, eventually.

Bracket have a nice bouncy feel to them, and it's merged with sludgy 90's guitars and a big drum sound. That's not something you hear all the time, but I can't tell if Bracket are inherently cheery or just being ironic.

I find that I like some of the songs, while others come and go without ever sinking their teeth in . It all sounds very Right On the Beat Super Rehearsed, which would also make it very radio friendly, if this were 1994; but, to my ear, it sounds as if whatever edge these "punks" may have had has been ironed, squeezed and pressed out. They sound juiced, made from concentrated Rock Juices. The songs are well-crafted, expertly performed and all just the right length. And just a little too NICE.



---
First published in Drop-D Magazine on January 25, 1998
Index | Search | E-mail | Info | Copyright

Considering copying some of the images from this story?
Please read this first. Thanks.