In Concert/MTV Plugged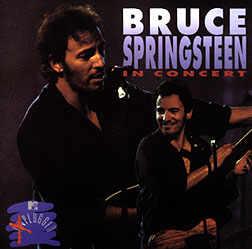 Bruce Springsteen
Columbia

Review by Alphonse Leong
---

By chance I happened to catch this performance on TV a while ago and it was reasonably entertaining, though Bruce Springsteen's singing voice becomes more gravelly and grating with each passing year! A 1992 show probably arranged to boost slow sales of the then new albums, Lucky Town and Human Touch, this wasn't really an 'unplugged' concert, as Springsteen strapped on his blonde Tele and brought out his E Street buddies right after playing his first solo acoustic piece, "Red Headed Woman" (The only truly surprising song of the night, it featured a pretty sexual line for Springsteen: "Your life's been wasted/'Til you've got down on you knees and tasted/A red headed woman"!).

A stirring version of "Better Days" followed, but the show featured mostly unremarkable and competent renditions of new material like "Light of Day" and "My Beautiful Reward" mixed with older songs like "Atlantic City", and "Thunder Road." Live recordings never really capture the rush of actually being at a show and, as the audio portion of a gig in a sterile MTV environment, this disc is definitely no exception.

Unless you happen to be an obsessive Springsteen fan who needs to have all his releases, I'd recommend his Live 1975-1985 album as a better representation of his performing capabilities.



---
First published in Drop-D Magazine on January 25, 1998
Index | Search | E-mail | Info | Copyright

Considering copying some of the images from this story?
Please read this first. Thanks.