Diana, Princess of Wales -- Tribute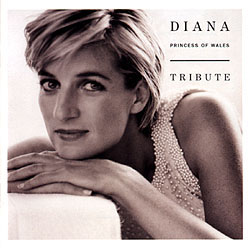 Various Artists
Sony

Review by Alphonse Leong
---

Okay, so most of the money from sales of this CD is going to worthy causes that Princess Diana supported. And, okay, the artists probably mean well and deserve to be commended, but, God, there's a lot of schmaltz on this thing! The only songs that are worth listening to are the ones that have some kind of life beyond an association with the Diana tragedy. And those are few: R.E.M.'s "Everybody Hurts", Neil Finn's remake of "Don't Dream It's Over," Diana Ross's recording of "Missing You" (released in 1984 after Marvin Gaye's death, and one of Lionel Ritchie's better compositions), and Simply Red's "Stars." The rest are mostly clumsily sentimental pieces that don't make the mourning process any easier. No offence to Eric Clapton, but even his "Tears in Heaven," though genuinely emotive, is a bit cloying.

The best way to really enjoy this CD? Don't open it. Hang it up on the wall; it has a particularly nice cover photo of Diana that really captured her innocence and fragile beauty.



---
First published in Drop-D Magazine on January 25, 1998
Index | Search | E-mail | Info | Copyright

Considering copying some of the images from this story?
Please read this first. Thanks.