The Junos are Coming! The Junos are Coming!
The 1998 Juno Nominees Press Conference
GM Place
Vancouver, B.C.
Wednesday, February 11, 1998

Review and photography by Rodney Gitzel
---

It's 9:30AM. Scores of sleepy journalists make their way to a meeting room on the second floor of GM Place. There's coffee, of course, lots of it. The occasion? A press conference to announce the nominees for the 1998 Juno Awards -- which, not so coincidentally, are being held in this very same building, on March 22. Gee, I wonder if Our Lady Peace are nominated for anything...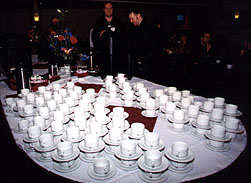 Looks like over 100 people. Seems most of the major label reps in town are here... oh, the last one just walked in, ok, they're all here. Lots of media types -- and lots of big video cameras -- and a few musicians, too. All drinking their coffee or OJ and schmoozing like crazy. Meanwhile, I linger off to the side, watching, and contemplating the rarity of shy people (me, for instance) in this industry.
(Press conferences, by the way, are essentially opportunities for various parties to get access to the media so as to convince them to promote their cause or product. Which makes for some interesting occurrences, like the major-label rep who told Drop-D to fuck off a couple years ago, that his label doesn't deal with little start-up magazines, who is now pumping my hand, smiling, chatting away. Why? "I've got ____ in the back, he's available if you'd like to chat." Let me get back to you on that one... )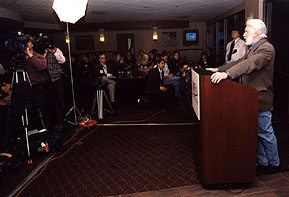 Ok, it's 10AM, and we're off. After a friendly intro from Cliff Jones, the West Coast Director of the Canadian Academy of Recording Arts and Sciences (CARAS), and a couple of we're-so-glad-to-be-involved's from reps from General Motors and Blockbuster Video (one of the biggest sellers of CDs in Canada?!?), it's time for the main presentation, so would everyone please sit back, turn off their brains, glaze their eyes, and stare at the plethora of video monitors around the room? (Sounds like a brainwashing scene from the X-Files, don't it?)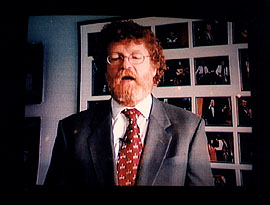 This was the very strange, and very unfortunate, thing about this press conference. For twenty-five minutes we stared blankly into the TVs, watching bits of music videos and, mostly, Lee Silversides, the President of CARAS, with his eyes down reading from his notes. Good grief. Why not put Cliff Jones back up at the podium to do the same speech? I don't think anyone would have been miffed, and it certainly would have been more entertaining, if only for the bits of crowd feedback, like booing and cheering from the label reps. Might it not have been easier to just ship us all a copy of the video?
Anyway, Silversides spoke on, and, in summarizing Canada's 1997 music scene, spent a lot of time praising Celine Dion -- no doubt to make up for not nominating her for anything -- and Lilith Fair. He also described Our Lady Peace as "this band of alternative rockers who've struck a chord with the mainstream" (those darn kids!). Producer David Foster was eulogized at length -- he's being inducted into the Canadian Music Hall of Fame, not in the least for having over two billion dollars (!!) in record sales worldwide -- and Vancouver impresario Sam Feldman was eulogized at not so length (he just doesn't appear in enough music videos) for his upcoming Music Industry Builder Award.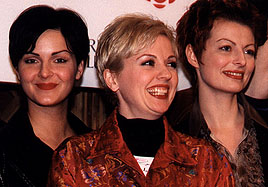 Other highlights? Well, I found out there's a category for "Best Reggae Recording" (?!?). The Backstreet Boys have been nominated TWICE in the same category ("Best Selling Album [Foreign or Domestic]"... which reminds me, how do you vote on something like 'best selling'??), along with the Spice Girls. And Bran Van 3000 even garnered three nominations; a pretty amazing feat for an indie band in an awards show so soaked in major-label acts.
Vancouver (and B.C.) did pretty well. And, please, don't hold your breath during this paragraph, you might asphyxiate... Econoline Crush is up for "Blockbuster Rock Album of the Year"; veteran 'novices' Age of Electric or the Matthew Good Band might be declared "Best New Group"; North Van's Mythos are the dark horse for "Instrumental Artist(s) of the Year"; Sarah McLachlan, of course, picked up a small truckload of nominations (six of them, second only to Our Lady Peace's seven), including "Album of the Year" and "Female Vocalist of the Year"; the Paperboys' Molinos CD is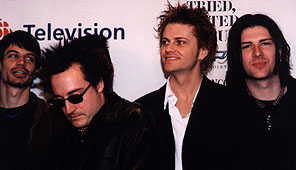 up for "Best Roots & Traditional Album -- Group"; Diana Krall (does she count as a British Columbian, anymore?) could quite likely end up with the award for "Best Mainstream Jazz Album"; Holly McNarland is up for three, including "Best Alternative Album"; Copyright are also vying for "Best Alternative Album"; the Odds may be "Songwriter of the Year"; the Cruzeros, from Kelowna, or Farmer's Daughter could very well be "Country Group or Duo of the Year"; Metalwood are up for "Best Contemporary Jazz Album"; Delerium are up for "Best Dance Recording"; the Rascalz might have made the "Best Rap Recording"; the CBC Vancouver orchestra is up for a "Best Classical Album" award with a very long title; Stephen Fearing (ok, a former Vancouverite... ) is a good bet for "Best Roots & Traditional Album -- Solo"; Colin James is up for "Best Blues Album"; Carolyn Arends might win "Best Gospel Album"... whew!... not to mention a number of production/video/etc awards for albums by Spirit of the West, Holly McNarland, Sarah McLachlan...
BREATHE!!
Ok, finally the video is over, eyes blink brains awake, someone shouts "SCRUM!" and all hell breaks loose. Well, almost. Cliff Jones takes the podium, asks the nominated artists to the front. The artists, of course, being here for no other reason than this, suddenly turn shy and slowly take their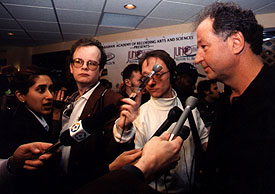 places. Dozens of cameras flash away, then the group is broken up for one-on-one chats. Sam Feldman is the first to be mobbed, but soon the microphones go off in search of Econoline Crush, Age of Electric, Farmer's Daughter, Matthew Good... Metalwood and Mythos hang about a bit, but they forgot to wear their rock star clothes, so very few people recognize them. And that was that.
So, there you have it. Be sure to watch the Junos on CBC on March 22nd, or better yet fly down to Vancouver to catch the show, live (tix available from TicketMaster). You'll get to see Shania Twain (woowoo!), Sarah McLachlan, Our Lady Peace, Jann Arden, Diana Krall... not to mention more tuxedos than have been there since that Three Tenors debacle. Or check out the Awards' website at http://www.juno-awards.ca (though be careful, it's surprisingly lacking in any sort of bio info about the nominees). And don't forget to go to Blockbuster Video to vote for the "Blockbuster Rock Album of the Year." Sorry, the Backstreet Boys didn't make it into that category...
---
First published in Drop-D Magazine on February 22, 1998
Index | Search | E-mail | Info | Copyright

Considering copying some of the images from this story?
Please read this first. Thanks.