Tubthumper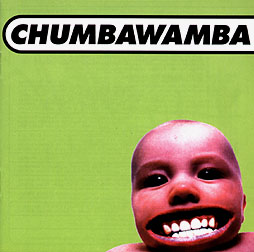 Chumbawumba
Republic / Universal

Review by Darren Kerr
---

44-second excerpt from "Drip, Drip, Drip" (various formats)


Picture if you will an impressionable boy of about seventeen years of age listening to a bizarre show on college radio. Wild Man Fischer, the Bubbleman and Robyn Hitchcock are all trotted out like mutant show ponies, and then, suddenly, without warning, something altogether unsettling and beautiful comes over the airwaves sounding like Negativland fucking with Crass.

It turns out to be one whole side of Chumbawumba's Pictures of Starving Children Sell Records. It is bloody brilliant. The boy will constantly berate himself for years afterward for not taping it. I never heard it again. Someday I'll buy that intriguing punk album.

Over the last few years, though, Chumbawumba have morphed into something horrifying. Gone is the Crass-like bile of songs like "Reality Whitewash," replaced instead by a dance music agenda. "Tubthumping" has become a monster international hit with its rugby crowd choruses. Fame has found these malcontents and has neutered them. On "The Good Ship Lifestyle" and "Drip, Drip, Drip," vocalist Danbert Nobacon wants to think he's Mark E. Smith. Not bloody likely.

Yes, the politics are still intact, but they're framed by such drippy mainstream music that no one's going to notice. I know that bands are supposed to evolve and mature -- but did Chumbawumba have to turn into Roxette?



---
First published in Drop-D Magazine on February 28, 1998
Index | Search | E-mail | Info | Copyright

Considering copying some of the images from this story?
Please read this first. Thanks.