'Good Will Hunting' Soundtrack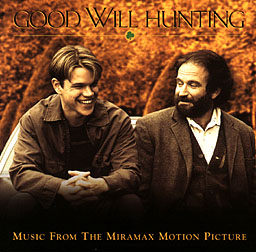 Various Artists
Capitol

Review by Darren Kerr
---

45-second excerpt from "Angeles" (various formats)


To honestly assess the merits of a movie soundtrack, one must first see the movie, feel the transitions and segues, and see how much the music adds to or subtracts from the overall mood. That's not my task, however: I just have to determine this CD's musical value -- which in this case is vast.

I don't know much about Elliot Smith except that he is the golden boy of the Kill Rock Stars label. He has six songs here, six songs of reflective acoustic goodness which bring to mind the tragic frailty of Nick Drake. Now that Good Will Hunting has racked up the Oscar nominations, Kill Rock Stars is going to have to share him with the rest of the free world. This is a good thing!

Other good stuff to be found here includes a slinky tune from Luscious Jackson, upstart psychedelia courtesy of the Dandy Warhols, the classic sax riff of Gerry Rafferty's "Baker Street," the ska-injected country rock of someone named Jeb Loy Nichols, plus the Waterboys and Danny Elfman's big orchestral handiwork. That Al Green's classic "How Can You Mend a Broken Heart" is included is certainly gilding the lily.

A most rewarding collection of music.



---
First published in Drop-D Magazine on March 7, 1998
Index | Search | E-mail | Info | Copyright

Considering copying some of the images from this story?
Please read this first. Thanks.