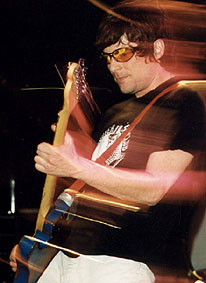 Driving to Daytona
Colin Cleaver and Jenny Lundgren of Vancouver's Daytona
Interview by Daniel Ewacha
Live photography by Rodney Gitzel
---

39-second excerpt from "Shannon Kissed a Train" (various formats)


Vancouver's own Daytona have just released their new Zulu CD, Sustain. Charged with the pleasant task of interviewing Colin Cleaver and Jenny Lundgren, the band's two singer-guitarists, I was a tad anxious about my first question of them, in fear that I may insult them. But, I figured, what have I got to lose, besides a few teeth, by asking Colin and Jenny about the degree of immaturity in their music?

"I'm not sure if immaturity is the right word," replies Colin, quite level-headed. "Perhaps bratty attitude, an element of brat in our music, most definitely, yeah, I can hear that." Jenny rushes to my defence: "I know what you're saying. I can hear it in songs like 'Chances Are' and 'Peekaboo.'" The point I was trying to get across was that the vocals have a certain whiny, almost kid-like quality to them, which, in most cases, would hinder bands. However, in Daytona's case, it adds even more character to already strong songs.
As the primary songwriter in the band, Colin feels that substance goes a lot further than the catchy three-chord guitar hooks prevalent in so much music today. "A good song should create a different photograph for every individual listener," explains Colin. "I think when I write a song and we play it, our goal is to take the listener on an emotional roller coaster ride. Some bands like to be in your face and give you no opportunity to experience the music. That's not to say that we're really mellow or anything, but we, I guess, like to write romantic, enjoyable landscapes. Bruce Springsteen is probably the master of this. Every song he writes and sings is a story or a photograph and it literally paints a picture in the mind of the listener. That's what we try to accomplish with our songs."
Songs such as "Shannon Kissed a Train," and "The Sceneless," however, paint too good a picture, and the listener may get a very different idea as to what the song is about. In my case, I thought they were about drug use and a high school dance, respectively. "That's interesting, because Sook Yin Lee of Much Music and a lot of others thought "Shannon" was about drugs, but it's not. It's actually about travelling," says Colin. "Well, it's not really," laughs Jenny. "Nobody really knows what it's about, but we're just telling people it's about the joy of traveling."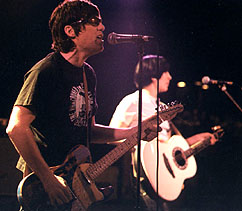 "'The Sceneless' is the best song I wrote for a Molly Ringwald movie, " states Colin. "It's about snapshots of somebody's life. Like those John Hughes' films in the 80's. I loved the music that came from those soundtracks. Psychedelic Furs and all that. It was great. In a way, 'The Sceneless' was inspired by all that."
As the interview progressed, we got onto the the topic of a most disturbing realization: The Hungry Eye, one of Vancouver's best clubs for live music, has apparently closed for good. Fueled by the pint of beer in his hand, as well as by a dose of frustration and anger, Colin bluntly states his opinion: "It's the bands' fault. People are so bored of the indie three stroke four guitar bands and that is all you hear in clubs these days. It's terrible that the Hungry Eye is closed, but people are bored with the scene and ultimately that is what is going to happen to these clubs."
"Look at it this way. Vancouver produced or created three sounds. One, the Headpins, Loverboy, Sweeney Todd sound; two the Skinny Puppy, Front Line Assembly, Nettwerk thing; and, most recently, three, the folky, almost new age sound with Sarah McLaughlin and the Rose Chronicles. Now everything is retro, stale, stagnant. I mean, our album is none of that. If you listen to it, it is fresh, it has a 1996 sound. It's a non-revival album."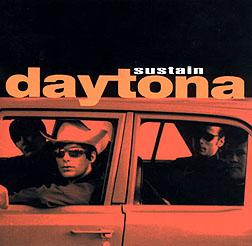 Daytona collectively agreed to take a different approach to recording this time around, opting to record the album in the basement of drummer Jim Banning, and have had no second thoughts or regrets. "I'm never going back to a studio again. It was great. We could open all the windows, let the sun in, relax. It was a peaceful environment. We loaded a one-ton truck with equipment, set it all up in Jim's place and just started playing. We had Glen Reely record it; he's 54-40's soundman and we know him from when we toured with them. He really liked Chicane, our first album, so he was a natural choice."
"Most of the album was recorded off the floor, about 80% of it. He [Glen] would just ask us to play so we'd be there jumping around, trying to put as much energy in to the song as possible. After a few takes, he had us sitting in chairs and playing. Those were the takes we kept because the energy was there in the song without us having to put any extra effort into it. That was really important to us because no matter how much jumping around and posing you do, if the energy isn't in the song, the listener isn't going to see you playing it in the studio, you know what I mean? It all goes back to the whole photograph idea."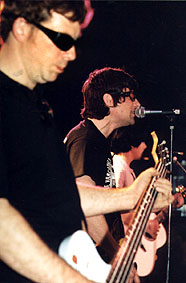 Colin continues on with the joys of home recording: "You can't play croquet in a studio either, which is another reason why I won't go back. We did the mixing up at Glen's house, and in between mixes, we would go outside and play a nice game of croquet."
What are the band's future plans for touring and recording? "We're playing the Town Pump on the 7th of June, then we go across Canada," states Jenny. As far as recording, "Who knows? We're just going to tour in support of Sustain for a bit and concentrate on that." "It's hard to say about the next album being that we just released this one, but I'll try and sum it up in this analogy for you," adds Colin. "The first album, Chicane, was like driving for the sake of driving. This album, Sustain, was like having a map with destinations." "The third album," Jenny pipes in, "We'll probably call it Propane or Mundane to keep it in the same sequence." "The next album," Colin continues, "could possibly be us arriving at those destinations."
Armed with a strong set of tunes under their belt, it seems Daytona will arrive at those destinations quicker than they expect.
---
First published in Drop-D Magazine on May 30, 1996
Index | Search | E-mail | Info | Copyright

Considering copying some of the images from this story?
Please read this first. Thanks.