Becoming Remixed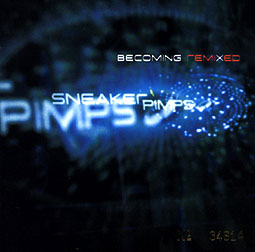 Sneaker Pimps
Virgin

Review by Dorothy Parvaz
---

Thank God someone did something about the Sneaker Pimps.

Clearly trying to cash in on Portishead's formula for success (you know, numinous keyboard background plus a smoldering, dead-on chanteuse), but falling oh so short with lukewarm songs and Kelli Dayton's thin, ribbed-for-no-one's pleasure voice, their debut, Becoming X, was one of the most boring bits of pap around.

Becoming Remixed, however, is another story -- it opens with Armand Van Helden's reworking of "Spin Spin Sugar," and thus makes the promise of delivering dangerously infectious beats. Ruled by Van Helden's signature phat, rolling bass, "Spin Spin Sugar" is just brutal -- I mean that in the best possible way -- and unless you've been going heavy on the GHB, you shouldn't be able to sit still through it.

For weighing in at 10 tracks, however, Becoming Remixed has too many repeats. As in, three versions of "Post-Modern Sleaze," two of "6 Underground" and two versions of "Spin Spin Sugar" (both by Van Helden).

The Salt City Orchestra Nightclub Mix version of "Post Modern Sleaze" is the best of the three -- it has a nice house beat with a sweet Diana Ross-esque fade in the vocals (circa "Love Hangover"). The second version is remixed by Reprazent -- made up of Roni Size, Krust and Die of the Goldie posse -- and it's spooky and loaded with breakbeats.

The first version of "6 Underground" is the Perfecto Mix and the second mix is by the Umbrellas of Ladywell (who the heck are these guys?) -- neither of them is bad, but both are too close to the original for my liking.

There are only singular versions of "Walking Zero," "Tesko Suicide" and "Roll On." Tuff & Jam do a bang-up job of transforming "Walking Zero" from a weak song to a catchy piece of speed garage, but "Roll On" and "Tesko Suicide" still remain skip-worthy.

Yeah, Becoming Remixed has a few good tracks on it -- I'd pick it up for "Spin Spin Sugar" alone -- but that says more about the mix-masters (some of whom could make the aural equivalent of Ishtar sound cool) than the Sneaker Pimps themselves.



---
First published in Drop-D Magazine on May 18, 1998
Index | Search | E-mail | Info | Copyright

Considering copying some of the images from this story?
Please read this first. Thanks.