Saturday Teenage Kick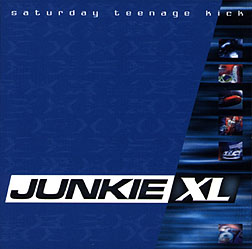 Junkie XL
Attic

Review by Dorothy Parvaz
---

Invite your friends over, strap this one on and warn the neighbours, because hatdang, things might get a little LOUD.

You can either crank Saturday Teenage Kick and just sit and listen, or you can get up and soft-shoe all over the damn neighbourhood. From the guitar-heavy "Underachiever" (actually there's lotsa guitar sounds sprinkled all over this album) to the drum-and-bass groove of "War," Saturday Teenage Kick, well, kicks ass. You can listen to this thing from start to finish without lunging for the skip button at any point.

And don't even try to play it as background music -- it won't work; the bugger will grab you. That's the beauty of this album: it's interesting. It's got rap (courtesy of Rude Boy of Urban Dance Squad -- Christ, remember them?). Break beats. And terrifically swaggering rhythms.

The samples are sweet, too. The title track includes a sample from Bob Mould's "Divide and Conquer' (well, actually, it's a re-recording... Fear Factory's Dino Cazares does all the guitar work on this album), and bits from the New Bomb Turk's "Tail Crush" shows up on "Underachievers."

The last track "Future in Computer Hell" goes on longer than you think. It's listed as being 8:03 minutes long, but add 10 minutes to that and you're there. It doesn't really qualify as a hidden track, so just look at it as a bonus... like you really needed one.



---
First published in Drop-D Magazine on June 16, 1998
Index | Search | E-mail | Info | Copyright

Considering copying some of the images from this story?
Please read this first. Thanks.