Blonder and Blonder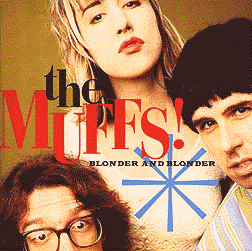 The Muffs
Reprise Records

Review by P. Freako
---

30-second excerpt from "Red Eyed Troll" (various formats)


Blonder and Blonder, the Muffs' new release, begins with the gritty voice of singer/guitarist Kim Shattuck blaring, "you were a fool to leave." The song, called "Agony," is about a lover being dumped and now living in -- yep, you guessed it -- agony. This is the start of an "I need you/I don't need you" theme running throughout the CD. This is not a reflective look at relationships, but rather a "how I feel in my gut now" inquest. With a "deal with it" attitude, The Muffs provide us with more of the poppy, raucous powder punk that they have delivered in the past. The grooves are infectious, making this a fun CD to listen to. Drummer Roy McDonald and Bassist Ronnie Barnett provide the poppy backbeat to the songs that hook us in with Kim's loud rock chords, only to launch us back out to pogo or mosh to her trademark wailin' and howlin'. Whether it be the countrified, rock-swing style of "Red Eyed Troll," or the bass-laden catchy power pop style of "Ethyl My Love," Blonder and Blonder is filled with honesty, hooky bass riffs, loud guitars and tons of screaming vocals... making it a must to own.



---
First published in Drop-D Magazine on April 11, 1996
Index | Search | E-mail | Info | Copyright

Considering copying some of the images from this story?
Please read this first. Thanks.