Cold Snap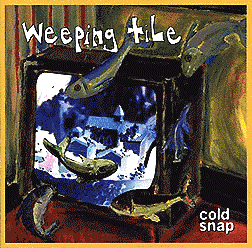 Weeping Tile
Warner

Review by P. Freako
---

32-second excerpt from "Westray" (various formats)


Kingston, Ontario is a hotbed of musical talent. Why? How the hell should I know? But look who's been coming out of that town: the Tragically Hip, the Headstones, the Mahones, the Inbreds, etc, etc. Add Weeping Tile to the list.

The band's debut full-length CD Cold Snap, the follow-up to their previous offering, aptly entitled Eepee, is an excellent disc. The first time I heard Sarah Harmer sing, I instantly fell in love with her voice. The enchantment hasn't changed after listening to Cold Snap. Harmer's vocal depth creates strong emotional paintings throughout her songs. Possessing a strong vocal range (especially brought out on the title track), Harmer allows her personal tales to be effectively woven through a foundation of guitars.

This relationship between guitar and vocals gives Cold Snap an intimacy in its pop rock genre. Sister Mary on bass and Paul Gurnsey on drums provide the steady, rhythmic parameters for Luther Wright to flail away on his guitar, most notably on "The Grin" and "Pushover," two of the poppier numbers. This musical atmosphere enhances Harmer's ability to lyrically relate her unique stories. "UFO Rosie," about a neighbour's UFO encounter; and "Westray," the story of a community dealing with the recent east coast coal mine disaster, are two powerful standouts.

Cold Snap is a collection of intimate tales laid over a rock foundation, evoking powerful images for the listener.



---
First published in Drop-D Magazine on April 11, 1996
Index | Search | E-mail | Info | Copyright

Considering copying some of the images from this story?
Please read this first. Thanks.